Weeoanwhisker's Barber Shop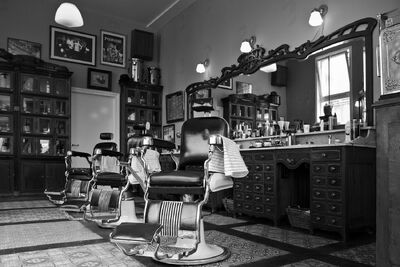 Weeoanwhisker's Barber Shop is a wizarding hair care shop. It is located in Lincliff City, next-door to Cogg and Bell Clockmakers. They offer haircuts, shaves, beard trimmings, mustache sculpting, and scalp treatments.
Archives
Roleplay
Giovanni and Dunstan
Dunstan le Fey

- head of magical education ✧ house of merlin

-Success is most often achieved by those who don't know that failure is inevitable.
Message Me – 18:11, December 23, 2017 (UTC)

He hasn't said anything up until that point, but he can feel pairs of eyes on him. He does what he can to ignore them, focusing on his barber and gesturing at his messy mop of hair. "Just a trim, really. You know my style," he finally speaks, and his accent circles around each syllable smoothly. He smiles at him, and then looks beside him, at the guy staring. "Hello," he says, sounding every bit of amused he feels.