Weasleys' Wizard Wheezes
Welcome to the Hogsmeade Branch of Weasleys' Wizard Wheezes, headquarters located at 93 Diagon Alley! In this shop, you can buy all sorts of joke items from the Ten-second pimple vanisher to Weasleys' Wildfire Whiz-bangs. Just don't get caught with any explosive items in Hogwarts! Having said that, Flourish and Blotts' is the place for things that make you go, "Hmm" -
this
is the place for things that make you go "Boom!"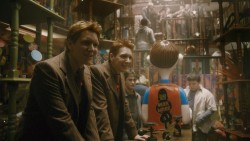 Items
Anti-Gravity Hats-Ruin a gentleman's day by making his hat fly away!
Aviatomobile - Flying toy car.
Canary Creams - Hello feathers!
Edible Dark Marks - They'll make anyone sick!
Extendable Ears - Fancy a good eavesdrop?
Headless Hats - Invisibility charm, for your head! 
Muggle magic tricks/pranks
Patented Daydream Charms - (Side-effects can include: slight drooling and a dazed expression. Not for sale to wizards under 16)
Portable Swamp - Cause a flood!
Punching telescopes - Trick your rivals!
Quills - in Smart Answer, Self Inking and Spell Checking varieties - Leave it to the Quill!
Reusable Hangman - Spell it or he'll swing!
Skiving Snackbox - They include: Fainting Fancies, Fever Fudge, Nosebleed Nougat, Puking Pastilles, Just in time for school!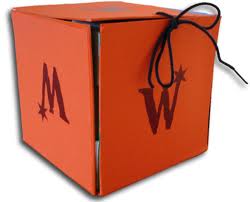 Ton-Tongue Toffee - Expand somebody's tongue!
Trick wands - Confound your friends!
Weasleys' Wildfire Whiz-bangs - Party! 1 Firework = 10!
Decoy Detonators - Create a diversion!
Peruvian Instant Darkness Powder - Handy for a quick getaway!
Shield Hats, Cloaks and Gloves - Challenge your friends to duels and trick them!
Love Potions - Make people obsessed with you!
Pygmy Puffs - A type of puffskein, good for cute company!
Ten-Second Pimple Vanisher - Eliminates boils, pimples and acne.
Candy In A Can - Just what the label says.
Proprietors and Employees
George Weasley - Owner
Aydan Dane - Full Time Employee
Archive
Roleplay
---
Ad blocker interference detected!
Wikia is a free-to-use site that makes money from advertising. We have a modified experience for viewers using ad blockers

Wikia is not accessible if you've made further modifications. Remove the custom ad blocker rule(s) and the page will load as expected.