Viaduct Courtyard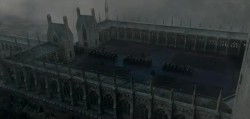 The Viaduct Courtyard (also known as the Entrance Courtyard) is a quadrangle in Hogwarts Castle. A covered stone cloister with an open colonnade runs around it, and two checkpoint towers flank its entryway via the
Viaduct
. There is a stone walkway leading from this courtyard into
The Quad
, and into the
Viaduct Entrance
. The courtyard is partially paved, in a cross pattern. A popular hang-out spot for students of all Houses, this courtyard is where some students spend their spare time playing Gobstones. On 1 September 1998, Hogwarts students marched through this Courtyard, under the supervision of Death Eaters Alecto and Amycus Carrow and Headmaster Severus Snape, as they were led into the Castle.
Archive
Roleplay
Ad blocker interference detected!
Wikia is a free-to-use site that makes money from advertising. We have a modified experience for viewers using ad blockers

Wikia is not accessible if you've made further modifications. Remove the custom ad blocker rule(s) and the page will load as expected.