Viaduct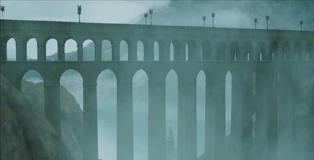 The Viaduct is an immense stone bridge in Hogwarts, which spans a gaping chasm. There is a safety balustrade, also built of stone, on each side of the bridge, to prevent people falling. At night, torches are lit to provide lighting. The Viaduct connects the
Viaduct Courtyard
and
Viaduct Entrance
. The bridge has many arches, with smaller and more frequent ones on the upper part and longer, larger but fewer below it, maybe to act as support. In the Battle of Hogwarts, animated stone soldiers were placed on the Viaduct.
Archive
Roleplay
Twyla and Alena
Alena DeWitt-Schmidt

- Hufflepuff First Year ✧ dancer

-Laughter is timeless, imagination has no age, and dreams are forever.
Message Me – 11:44, August 5, 2018 (UTC)

She gives her a look somewhere between quizzical and are you f-cking shitting me. "...you're not even six feet away from me, I don't think," Kneeling to pick up her tumbler, she heaves a large sigh. All that chocolate milk, wasted. Such a nice sandwich, gone. "Aside from a large bruise, spilled milk and lost sandwich? Sure, let's go with that," she sighs, pinching the bridge of her nose out of frustration.