Welcome to the

Dumbledore's Army Role-Play Wiki!
Hi Shooting Starz, welcome to Dumbledore's Army Role-Play Wiki! Thanks for your edit to the User:Shooting Starz page. Before getting started, make sure you read and agree to our policies. After that, make sure you get all your supplies from Diagon Alley and create your character page.
Please check out the
starting guide
to get started, and please leave a message on
my talk page
if I can help with anything! --
Echostar
(
Talk
) 15:27, June 13, 2012
Talk Page Start
Sorting
Welcome to Hufflepuff!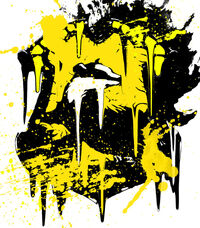 Hello Shooting Starz, and welcome to the Dumbledore's Army Roleplay Wiki! I saw that you put your character in for Sorting, and you have been Sorted into Hufflepuff. Congratulations! Now you can start making your character page. Create a new page with your character name by clicking this button:

. It should be at the top right corner of your screen. Click the arrow and click 'Add a Page'. Choose the 'Blank Layout' and type your character name in the box. Make sure it's properly punctuated and it's exactly the way you want it.
Then you can start filling out your character page with information about your character. What does your character look like? What is his or her personality like? You can look at other character pages for ideas (i.e. Karith Black, Teresa Waters). Also make sure you add a Category for your House (Eg. [[Category:Hufflepuff]]).
You can check out the starting guide for the next step. If you need any further help, send me a post on my talk page. You can also ask for help from anyone in the administration team.
Thank you and again, welcome to the wiki!
Echostar 19:42, June 13, 2012 (UTC)
I was wondering... Is Avril Rider still up for adoption? If she is, could I adopt her? Thanks! Mistelm
helloooo... 04:11, June 20, 2012 (UTC)
If your still online, I demand that you come to chat. Bryans1008
Wizard Art
When you get the chance, please update the Wizard Art and Detention:Wizard Art pages. Thanks! Bond_em7 (Owl Me) 17:55, June 27, 2012 (UTC)
yup im on Sonofapollo 18:53, July 5, 2012 (UTC)
Viv's new piccy
Hey, so I was pichunting, and I found a great new pic for Starry (it looks just like an older version of her current one)
http://fc01.deviantart.net/fs71/f/2011/130/2/0/jasmin_by_jennyeight-d2pbo6z.jpg
You may wanna crop it a bit. If you do change it, could you also edit Frozon Manor's gallery.
Sonofapollo 08:44, July 7, 2012 (UTC)
Pic + Stuff
Oh, you got a link to the other pic? Plus, just to throw spanner in the works: http://thecoolgeek18.deviantart.com/favourites/46805845#/d3d1xgq
She's just so starrrrry. Anywhoo, I was also gonna ask, are Vivian and Maurice getting married? If so, are we gonna do a joint one with Bryan/Marsye? Sonofapollo 19:48, July 7, 2012 (UTC)
xD Rofl. You online? Sonofapollo 20:43, July 7, 2012 (UTC)
Not left yet. Chu on? Sonofapollo 21:21, July 8, 2012 (UTC)
Wizard Art
The page for this subject, under the tutelage of your Professor Helandria Norene, indicates that the classroom is on the third floor next to the statue of Penelope the Seer, whereas the Marauder's Map has it on the fifth floor. Alex Jiskran (talk) 18:52, July 9, 2012 (UTC)
Sorry
I will keepi that in mindI love the Cats, and Wolves (talk) 00:03, July 12, 2012 (UTC)
A fresh pair of eyes
Starz, if you have the time and inclination, it would be a huge help to me to have a fellow native speaker, and pedant, look over the more "colourful" intros that I've written for the floors of the castle, and point out where they ring false. Please don't feel under any pressure, I'm just hoping you might spot something I've overlooked, as proof-reading your own work is often frustrating and/or futile. All the best, Alex Jiskran (talk) 23:57, July 12, 2012 (UTC)
Explanation
If you're available, it's probably easiest to do this in the Chat. Alex Jiskran (talk) 11:49, July 13, 2012 (UTC)
Have fun! The dynes are wonderful, oh, and try not to die of Internet withdrawals too fast. Anywhoo, we'll take care of chur charries. Bryans1008

Sure. Weirdo Guy (talk) 04:52, July 19, 2012 (UTC)
kk. Weirdo Guy (talk) 19:31, July 19, 2012 (UTC)
Election
Starz, is your Minister for Magic (Edelson?) stepping down? Alex

Jiskran 06:05, July 28, 2012 (UTC)
Dinner
Hey Starz, whenever you log on or get the chance to, could you post on LeClerc Maison. Mama and Papa LeClerc, Brandon, Bryan, the Twins are all having dinner. So, all we're missing is Viv. Bryans1008

okay, i'll try :D
btw who's ang? Sonofapollo 17:05, August 9, 2012 (UTC)
Chat
Grrr, sorry I disappeared, again. 'Twas time for dinner. Bryans1008
Love it.
I am trying not to lose my mind, those two on your page are so very cute! Freja 20:13, August 14, 2012 (UTC)
Quidditch
OHMYGOD YOUR USERPAGE IS SO COOL HOW DO YOU DO THAT???????
+Your rb request rocked. It kicked arse. Anywhoo, so theres a Quidditch Match, please ensure you post as Fiona here: http://dumbledoresarmyroleplay.wikia.com/wiki/Match:Hufflepuff_VS_Slytherin_-_August_15th?t=20120816145448 regularly, as we want to win the Quidditch Cup! Thank you :)
Sonofapollo 21:25, August 16, 2012 (UTC)
Rollback
You have been promoted to rollback. What this means is that you can now use the rollback button when undoing changes, and undo a bunch of changes at once. Also, you are now a chat mod with the ability to ban/boot people from the chat room. Make sure you use these things responsibly. As a rollback, you should check out the departments on the front page, and pick one to start helping in. Let me know which one you would like to help out in, and I'll get it set up. Thanks, and continue your hard work! Bond_em7 (Owl Me) 15:25, August 24, 2012 (UTC)
Carina Watson-Fletcher
Starz, just so you know, this character is currently showing up on the "Orphaned pages" section. Alex

Jiskran 07:29, August 27, 2012 (UTC)
Awards
Order of the Merlin, 3rd Class

The

Order of the Merlin, 3rd Class

is given to you by

Football444

, for being a very good contributor and roleplayer. Thanks for all the great ideas!

Congratulations and Keep up The Good Work!

-The Administration Team
Order of Merlin, 2nd Class

The

Order of Merlin, 2nd Class

is given to you by

Football444

, for being a very social and helpful Rollback on Dumbledore's Army Role-Play Wiki!

Congratulations and Keep up The Good Work!

-The Administration Team
- TheFlyingFoot 19:29, August 28, 2012 (UTC)
Hey Starz, I wanted to let you know that I am safe (it's about 11:20 Central time here). I know I disappeared and I didn't want you to worry. Oh, and I managed to set up a hotspot between my computer nd my phone so that's how Im sending you this. Bryans1008
Orphaned
Starz, there's a character of yours Wisteria Flamel on the "Orphaned pages", doesn't seem to have been touch since the merge. Alex

Jiskran 09:15, August 30, 2012 (UTC)
Roslyn Haise and Einar Faris
Starz, the Legal Section at the Ministry are looking for a lawyer, and I remembered your character. I didn't want to tie you down to details, but I thought it would be interesting if she and the Minister had a past, so I wrote an Owl implying that, but not specifying the nature.
I thought she could either have defended or prosecuted him at his 2003 sanity hearing, when it was determined that Gilderoy Lockhart had stolen many of his memories and falsified others, so that he was not a murderer, and should never have been in Azkaban.
If you prefer something else, or don't want any link, just let me know, and I'll adjust how I play him. Alex

Jiskran 17:10, August 31, 2012 (UTC)
Pro or Con?
Starz, that's entirely your call, whichever side of the argument you think fits Roslyn, put her there. The simple fact that they have history will help any RP, I feel. Alex

Jiskran 20:58, August 31, 2012 (UTC)
Prp
Hi Starz, having fun at scool? :P Anyway, I think I figured out a solution to only being able to rp with those of your district, It might take away from the roleplay seeing how all the districts are diverse but it's worth a shot. What if we didn't separate all the district roleplay pages and had all the districts roleplay in one place? Then you could Roleplay with all of tributes (without trying to kill eachother) if the GM is taking a while with the games. Although I think it would be easier if you couldn't have backstories with other district tributes. It might not be such an good idea, but that's all I could think of. Idiosyncratic6Wow, long post :o 12:11, September 4, 2012 (UTC)
Sorry, I was afk, I saw you were on chat too, if you can rejoin then we'd be able to talk more about Prp. Idiosyncratic6 23:46, September 5, 2012 (UTC)
Yay! By the way, I asked Jisk to help us wording our pages, and I've been working on demos of the District pages. Though I wish I could find richer information. Idiosyncratic6 13:52, September 8, 2012 (UTC)
Wow. Does that mean we ask echo for rights and become B-crats, then dress up the wiki differently? Idiosyncratic6 14:16, September 8, 2012 (UTC)
Cap
Hey Starz can i get bureacrat and admin position in http://pottermore.wikia.com/wiki/Pottermore_Wiki.Cuz this wikia is lagging admins plz give me crat and admin status so i can apoint some new admin and the wikia can run for good.CaptainPikachu-
Captain Pikachu (talk) 16:56, September 4, 2012 (UTC)

Roslyn and the defendants
Starz, can Roslyn post on Silas Tyrrell or Estella Stanton if she's going to defend the accused before the WIzengamot? If not, I'll find a way to rope in HoR's lawyer, Mark Faltz. Thanks, Alex

Jiskran 11:20, September 7, 2012 (UTC)
chu on? Sonofapollo 19:50, September 8, 2012 (UTC)
RE:What's Next?
My feelings exactly. I'm on chat if you want to have a discussion over what TO do next. I feel a bit discourged seeing how there are at least 12 other HG RP Wiki's out there (funny, isn't it?). Idiosyncratic6 21:16, September 16, 2012 (UTC)
http://theworldofpanemhungergames.wikia.com/wiki/The_world_of_panem/_hunger_games_Wiki and countless others. Foot showed me all of the varouis HG Wikis. Ask him if you want to see them all because I honestly can't remember the others. Idiosyncratic6 21:29, September 16, 2012 (UTC)
I over looked that, I guess my eyes aren't very sharp, or I don't pay that much attention to Welcome Pages... I DO NOT want to be like those jerks Rin and Sid, but there are only so many things you can do with a wiki, and kind of liked the layout of their main page. :/ I guess we all can't be all so orginal in this respect. Idiosyncratic6 21:42, September 16, 2012 (UTC)
HAPPY BIRFDAY
HAPPY BIRFDAY!
I know it's late, but anyways a belated birfday wish from yours truly! And as a present, I'll be uploading all my Leaky Con pics to the wiki (just found out I'm going today!)! So, again, happy belated birfday!
Prefect
Congrats on Fiona McNeary still being the Hufflepuff Female Prefect. You can now use the Prefects' Bathroom, and can take House Points from your own House, and if needed, give detentions with your Head of House. Also, please be sure to post on the Prefects' Carriage when you get a chance. If you have any questions, let me know. Bond_em7 (Owl Me) 14:15, September 25, 2012 (UTC)
Alright, let's see if I can answer your question. As for Soa, he has taken an inactivity spree (I have too, but mainly during the week). Im not sure exactly when he'll be back. But, I'm hoping it's soon. Anyway, as long as you have your reasons, don't worry about being a little bit inactive (I'll handle any issues, should they arise). Oh, and yeah, hey! Bryans1008
Hey
Hey Starz. Posted on the Shadow Estate :P Weirdo Guy (talk) 18:37, October 3, 2012 (UTC)
Inactivity
You've been very inactive lately, so I was just wondering what was going on? Is life keeping you busy, and if so do you know when you will be more active? Thanks! Bond_em7 (Owl Me) 13:53, October 9, 2012 (UTC)
I understand life happening, and though you say family stuff doesn't matter here, that's not true. In fact I always tell people that real life comes before the wiki, and if you're a Bcrat/Admin/RB, to just let me know you're busy and will be inactive for a couple weeks, and when you expect to be back. As for the place being dead...I dont' see that. It's true there's a slight break in the war at the moment, but Ministry characters are busy with the cleanup and preperation for the next attack, ICW's are having a meeting (which needs more members), trials in the Wizengamont begin today, 2 quidditch matches are beginning today, and we've had classes going for 2 weeks now, so I'm actually pretty swamped with RP's. I know you may not be involved in all those, but you could certainly join some of them, and even if you didn't want to, you should at least have a Hogwarts student attending classes right? Bond_em7 (Owl Me) 14:10, October 10, 2012 (UTC)
RE:
Family first, Starzy! You're uncle's definitely in my prayers. It's great that you're comforting him and your cousins. Bryans1008
Rollback
As a member of the admin team here on the wiki, you have not been fulfilling your duty to be active, and help out in one of the departments. As the wiki is currently going through some changes, we need active admin team members. So, as such I'm going to ask you to either step down from being a rollback, or please be here and more active. If either isn't done in the next week, you'll be demoted then. Thanks for your understanding, and if you have any questions, please be sure to let me know. Thanks!
Bond_em7 (Owl Me) 15:31, December 10, 2012 (UTC)
STARZ!
STARZ! OMG! OH MAH GOSH! It's good to see you're not dead :D Weirdo Guy (talk) 01:39, December 12, 2012 (UTC)
Hi!  I'm interested in adopting Alaine Rider.  Thanks!
Ninaplusfabian (talk) 15:24, February 2, 2013 (UTC)NFNinaplusfabian (talk) 15:24, February 2, 2013 (UTC)