Welcome to the

Dumbledore's Army Role-Play Wiki!
Hi Green7, welcome to Dumbledore's Army Role-Play Wiki! Thanks for your edit to the User:Green7 page. Before getting started, make sure you read and agree to our policies. After that, make sure you get all your supplies from Diagon Alley and create your character page.
Please check out the
starting guide
to get started, and please leave a message on
my talk page
if I can help with anything! --
Bryans1008
(
Talk
) 23:05, June 2, 2012
Talk Page Start
Ball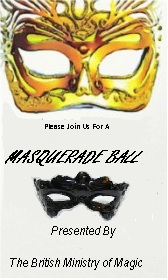 You Are Invited
To a British Ministry of Magic Masquerade Ball
Beginning Next Monday


In the
Ministry Ballroom
Please bring all your adult, Ministry of Magic, Foreign Leader, and Hogwarts Teacher characters to the ball to celebrate another school Year ended. It would also be appriciated if you could create or alter your talk bubbles for the Ball. Please keep track of which of your characters is wearing what mask.
Here's an example:
If you need any help, or have any questions, let Bond_em7 know.
Department Head
I posted a comment on your page Dr. Andromedus Prince with a question for you when you get a minute. Bond_em7 (Owl Me) 21:35, June 24, 2012 (UTC)
Talk Template
I edited your template a bit to make it easier. Here's how you'll use it:

{{Green7|time=~~~~~|Prince=Your message.}}

If you ever need to add another bubble, just let me know, and paste the bubble on my page, and I'll add it to the template for you. Bond_em7 (Owl Me) 14:25, June 25, 2012 (UTC)