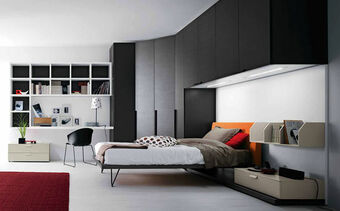 Uno's Flat is a modest little place in Diagon Alley. With his father's hardcore supremacist beliefs, his own preference for a certain type of woman, and the strained relationship between his brother, and his father he has recently taken in his younger brother Romolo.
The interior is very simple, containing only what is needed. With a room-mate of sorts, he now has a very nice, comfortable couch he and Romolo trade sleeping days on, for the most part it is Uno's bed. There is a rather large bed upstairs, some light provided by the desk lamp and shelving. There is a plant in the room, but it's not real. Throughout the flat there are a few photos hung up. Mostly his mother Bella, older sisters Gem, Pearl and their families. Uno keeps no pictures of his father.
The majority of the flat is dark and the bedroom has a little splash of color in the headboard, pillows and red throw rug. Aside from that reminder of red, things are black and white except the shelving by the bed and the night stands. Uno and Romolo would become stir crazy even quicker than they already do without these tiny bits of color.
Uno and Romolo don't even like to be home. Back in Levanzu the only reason the family retreated indoors was to eat, bathe or sleep. Because of this they prefer to be in open air with Baldo and Letto. A preemptive measure for those lazy days to keep the boys from each other throats, the windows have been charmed with a aesthetically pleasing city view.
Archives
Roleplay
(Knock first, it's polite.)
Ad blocker interference detected!
Wikia is a free-to-use site that makes money from advertising. We have a modified experience for viewers using ad blockers

Wikia is not accessible if you've made further modifications. Remove the custom ad blocker rule(s) and the page will load as expected.