Garden
London Coven Headquarters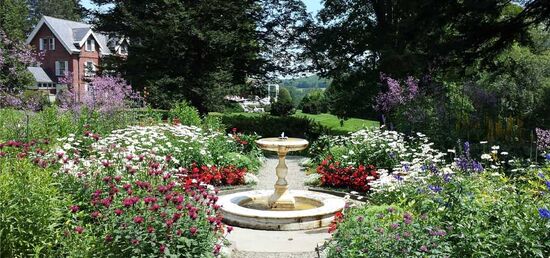 Thornhill's garden has a beautiful array of flowers, bushes, plants and fruit trees and has been the main hub of Narkissa's attention. She planted the entire garden herself and continues to maintain it year round with seasonal plants. The fountain has a couple of shiny coins in the bottom, as if used as a wishing well.
Archives
Roleplay
Vlair
Valerie Knight

- Slytherin Alumni - Hogwarts Librarian

-Even the darkest night will end.... And the sun will rise.
Message Me – 04:00, October 5, 2017 (UTC)

Val wasn't feeling all that well today. Not physically, but emotionally. She sat in the garden, next to the fountain, her legs hugged to her chest as she stared up into the sky. Today was the day her father abandoned her - Something she, at the time, was well enough to remember. And oh, she remembered. The Aurors, the Ministry.... That insane lady who kept forcing answers out of her. Val felt a boiling anger inside her for a moment before she took a deep breath. This was the day she lost her family Val closed her eyes and rested her head on her knees, staring at the ground.
Val and Blair
---
Thornhill Estate · Garden · Lobby · Lounge · Library · Narkissa's Office · Kitchen · Game Room · Underworld Bar · Basement · Meeting Room · Cells · Sleeping Quarters · Secret Passage