The Honeydukes Express Food Trolley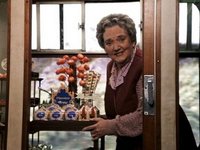 Anything from the Trolley, dear?
Archive
Roleplay/Requests
Juliet & Twyla
「 Princess Juliet of Windsor 」17th in line to the throne - hufflepuff
Juliet strolled to the trolley before it got to crowded, money in her hands that was for "lunch". In truth, it was planned to all be spent on sweets and candies as soon as she got it. She hadn't bothered to put on her Hufflepuff robes just yet, much rather preferring her skinny jeans, loose t-shirt, and converse. She'd probably wait last minute to change into them like she usually did. Waiting patiently behind another student, she looks around the trolley to see what she should get. Maybe she should of thought of this before going up to buy something.
Message Me • 15:21, January 16, 2019 (UTC)
「 Twyla Montgomery 」third year gryffindor ◈ omen of misfortune
Summer was short but had changed a lot of things, mainly to do with her appearance. She started the slow transformation to adulthood and lost some of what she considered baby fat from her face but the real shock was the two little horns that now poked out of her dark hair and gave her a sort of demon-devil vibe. As she entered the trolley, mouths nearly dropped to the floor and small gasps of shock were exchanged along with hushed whispers as Twyla stoicly made her way to the back of the line. She had never seen the entire population of a room grow so rilled up over wondering if there were just some sort of headband or a magic spell. In truth, she wished she could make them go away.
Message Me • 15:32, January 16, 2019 (UTC)
「 Princess Juliet of Windsor 」17th in line to the throne - hufflepuff
The shocked looks and the sound of other students gasping is not blind to Juliet, finally turning around when witnessing someone's mouth go so wide that the lollipop in it actually fell out. It was a unique site, the girl walking in with devil horns on her head, but they all went to a school of magic. People have been charmed with worse. Honestly, horns suited the student. She honestly considers complimenting them before realizing it was her turn at the trolley, so she goes back to her own business and orders a few different random candies. Maybe she can find Alisa or one of her cousins somewhere and share.
Message Me • 17:14, January 17, 2019 (UTC)