The Spider's Web
Pub and Eatery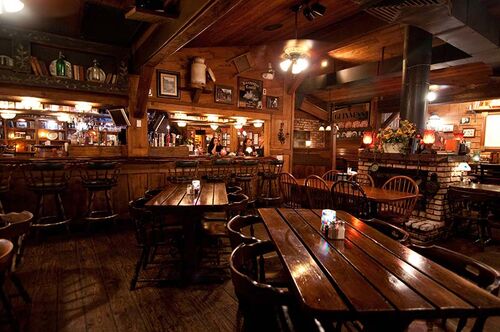 The Spider's Web is an infamous pub that is a renowned location for under-the-table deals (and, like any other pub, bar fights). Dilapidated and grimy, the Spider's Web is no five-star hotel, but the menu's cheap, the food's good, and there's plenty of alcohol; it almost always has at least a few drunken customers seated at its traditional sleek oak bar table. The new owner, Elaine Matthews has a don't-ask-don't-tell policy with her customers (the majority of which are engaged in criminal activity), but for a fair price, she can disclose scraps of information she overhears. The very large basement is home to a V.I.P room for those select few allowed, clad with gambling machines, pool tables, a large poker table and a dusty ring in the middle of it all for illegal fighting. Bids are always welcome.

The Spider's Web is currently looking for waiters, waitresses, bartenders and even some live music acts.
Employees
Archive
Roleplay
Naga and Seunghyun ft. Haru
park seunghyun

- hogwarts graduate • shining star

- we shine so much that we are blinding
Message Me  - 02:41, August 28, 2018 (UTC)

It's ia slow day today. There's nothing much for Seunghyun to do than to watch on eye on any of the few customers in the bar. He doesn't think that they'll be any more, so he's slowly wrapping everything up. Wiping up glasses and wiping down the bar itself. His eyes go to the door once it opens, and once that it reveals that it's Naga through the door, he couldn't help but smile. He looks as handsome as ever, his boyfriend. Seunghyun watches him approach the bar, and immediately goes to service him once he sits down. But it's obvious from the neutral expression on his face that he's up to something. "Can I get you anything, sir?" His lips emphasize the word sir, as if he didn't know who Naga was.
| | |
| --- | --- |
| | |
park seunghyun

- hogwarts graduate • shining star

- we shine so much that we are blinding
Message Me  - 05:14, August 29, 2018 (UTC)

Seunghyun raised his eyebrows at the next statement. How fiesty He lets himself muse about that question for awhile. He kept on wiping glasses, and he stayed silent. Finally, he said, "Well, my favorite drink comes from my boyfriend, so I can't let you have that one because it belongs to me only. Have an Old Fashioned instead." He lets himself smirk.
| | |
| --- | --- |
| | |
park seunghyun

- hogwarts graduate • shining star

- we shine so much that we are blinding
Message Me  - 15:45, August 29, 2018 (UTC)

"Well, that's between me and my boyfriend so I don't think you'll be tasting that any time soon." The smirk remained on his face, but by now he'd stopped wiping the glass. He'd found the bottle that he needed and began concoting together the said drink. Once he was done, Seunghyun gracefully slide over the glass. "As much as I'm rather flattered by your flirting, I have someone at home."
| | |
| --- | --- |
| | |
park seunghyun

- hogwarts graduate • shining star

- we shine so much that we are blinding
Message Me  - 04:48, September 9, 2018 (UTC)

"Nah, my boyfriend's ugly. I'm the one with the visuals, in fact." Seunghyun was rather glad that the bar was mostly empty, and that whoever was left was more engrossed in their own conversation, because he had a feeling that he would be shot with some dirty looks. Not that it mattered, especially with the reputation of his bar. "I'd tell you about him, but as a matter of fact, he's right there." His eyes turned teasingly into a familiar man that has just entered the bar. Someone he hadn't seen in the longest of whiles.
| | |
| --- | --- |
| | |
| | |
| --- | --- |
| | |
park seunghyun

- hogwarts graduate • shining star

- we shine so much that we are blinding
Message Me  - 04:57, September 11, 2018 (UTC)

He finds himself wanting to laugh and drag Naga into his lap. They were having such a good time right now, playing around like this. Seunghyun really liked it. "Trust me, kid. My boyfriend sees it very well." As he looks at Haru and his entrance, there's something about his eyes that's all about drawing the other man in. "Yes, baby, you never remember that we've been dating for awhile. We've been together so long that we argue in public. Isn't that right, sir?" Seunghyun's playfulness is at an all time high now.
| | |
| --- | --- |
| | |
| | |
| --- | --- |
| | |
park seunghyun

- hogwarts graduate • shining star

- we shine so much that we are blinding
Message Me  - 05:51, September 14, 2018 (UTC)

There's more people leaving the bar. Seunghyun's dark eyes follow the trail of each and everyone, making sure that they did no trouble as they all ventured out into the night. Must be important things going on in everyone else's lives, because it's not even that late. The sun has barely even set. It's more dusk than night, truthfully. Nevertheless, Seunghyun didn't mind it at all. He appreciated any day where his hours were shortened by lack of interest in the bar. It made his job easier in cleaning up and closing down, but it also made for more much needed time at home.

His eyes turned to his actual boyfriend. For a moment, the look in his eyes turned from alert to almost loving. Softness in his eyes, softness in his heart. Seunghyun knows that he acts a bit too gruff for his boyfriend's taste. It's from all the bullshit he's encountered in life and the way that Naga's younger that has him acting this way. Like he needs to set an example and distance himself at the same time. Not from malice, of course. It was more of putting up a wall. He's been through many men and many women - not to even mention family life - and Seunghyun never really felt like he could ever open up. Comfortability was someone he enjoyed with someone. And even though some of his walls still stand and he doesn't ever call Naga by anything other than kid, Seunghyun really appreciates him.

He almost wants to reach out and hold his hand. Seunghyun wants to say thank you for coming, he wants to say that he really does appreciate that he came here to say this. But his mischievous side couldn't hold out. That was something that was always relatively present. For all the distance and the specific names, Seunghyun never wasted a moment to bring humour into the world. And he has to admit that he's enjoying the moment right now. Even as lightly spaced out as he is, he could appreciate the way that Naga played along and the way that Haru seemed to pick up on it as well. Seunghyun couldn't help but to be highly amused. And he was certainly in the mood to make their night even more amusing.

He went on to study the Japanese male beside Naga. Eyes darted away for a minute to see the last of his bar guests leaving. Glasses that need to be picked up, other food items and garbage that needs to be thrown away. But that could wait. His gaze turned back to Haru once more. He looks as handsome as the day they met. All the gorgeous features that he remembered so well, even for a one time meeting. But Haru was a night that he could never forget, and he would be damned if someone even tried to erase it from his memory. Even if they hadn't contacted each other since, Seunghyun could've spotted him from a mile away. And he was glad that they got to meet again. Haru was amazing, truly. And not just in the bedroom, either.

Seunghyun answered Naga first. "He likes me well enough in bed, that's for sure. He can't ever resist me." His voice was filled with a mixture of real and false emotion. That tone that his voice always takes when he's in one of his teasing moods. Pride that seemed too sweetened to sound real and too delighted to sound make. With everyone gone, it was a relatively good time to sit down and start to conversation. He retreats from the conversation and leaves the two alone to speak. Walking toward the corner that leads into the back, his hands grip at one of the extra bar stools that they keep there, just in case. His right hand carries it as his left gets out his wand. With whishes and whooshes, the glasses fly neatly into a end of the bar. The trash throws itself away. The doors to the bar lock and the sign switches to close. Seunghyun couldn't help but to be prideful that he did all that with his weaker hand.

Walking back to where he had left the two men, Seunghyun wastes no time in rejoining the conversation. Chair down, he sat it on it, joining Haru and Naga from across. He'd gotten another bottle of bourbon, just in case. "No, sir, I couldn't." His voice once again changes. It turns strangely light and innocent - nothing that you would ever associate with Seunghyun at all. It was a sharp contrast to that usual deep rich voice of his. It spoke high volumes of their relationship.

"Oh, cheating on me already?" There's more of that playful banter. It was obvious that he didn't really mean it, especially when his real boyfriend was sitting right there. But for now, Seunghyun was more than happy to sit back and watch the two interact with each other. He was seriously interested in how they would react to each other. So he stayed quiet for now, playing the part of the observer.
Panagiotis Michelakakis

-

-The difference between pizza and your opinion, is that I only asked for pizza.
Message Me – 01:53, September 21, 2018 (UTC)

His eyes had roamed around when the sound of things moving had filled his ears, a smile crossing his lips when he noticed it was seunghyun. Everytime he looked at that man, the man he was dating made him feel warm, because he absolutely adored him. In all honesty by now Seunghyun would of been his ex if this had been the past, but it wasn't and he was lucky that he had found someone who could deal with how he acted in any and every sitution. Naga always had that about him, his rude nature. Nothing could compare to how he could react in such a volatile manner. From being nice to being an utter asshole, nothing in between ever. It was as if he only had two moods and his actions always shifted between them so quickly. Upon hearing the deep voice break the slight silence that had started to fester just made him shake his head. "Cheating isn't my thing."
| | |
| --- | --- |
| | |
Arty and Bella
| | |
| --- | --- |
| | She was sitting at one of the tables, the high ones with the stools, drinking beer as she stared over at the screen. She had her skin on and was ignoring everyone who looked her way. She'd been there for only ten minutes but two men had already tried to talk with her. Thus, she was now twirling a small knife through her fingers just to make sure no one had any funny ideas. |
| | |
| --- | --- |
| | She was watching Bella as soon as she entered the establishment, placing her chin on her knuckles, flipping the knife closed to pocket it. "I did," she said, rather placated. Not the blunt, almost harsh, tone that she usually did. "Repeat it so I know what I read was right. I want to think I was dreaming it." |
Isabella Gaunt-Kingsley

- sixth year slytherin ♔ serpent heir & prefect

-"She was unstoppable and she took everything she wanted with a smile."
Message Me – 14:12, August 6, 2018 (UTC)

Isabella reclined back ever so slightly, although her actual posture remained ramrod straight despite lacking a back to the stool. "Donnie Finch-Hatton located Xavier just outside the abandoned mill, nearly gutted. Looks to me like he revealed himself to an outsider, whether he spared details or not and then proceed to carry on an interesting relationship. Not to mention the whole thing with that dude he witnessed get killed a while back. Come to find one of the older Serpents blackmailed him into the gang," she said and crackled her knuckles. "Something is up with him. Hidden intentions or what have you, its bad. So I went ahead and promised that if he didn't enlist Donnie - as a fail-safe in case he rats - to join or he would be thrown into the dungeons," her words were harsh but this was her gang that could take a fall due to this teenage boy drama. "Donnie declined my offer to join despite his very transparent behavior. I'll make him a Serpent even if Xavier fails and ends up spending a long time underground."
| | |
| --- | --- |
| | She paused when she heard the briefing, frowning to herself. "Blackmail? Know who the blackmailer is?" She asked, carefully but with a harsh bite to it. Fucking hell, if she had known about this months ago she'd have kicked him out but...he was integrated. Thomas probably knew things. "What do you know about him? Xavier. Any family or other attachments other than Finch-Hatton?" The name sounded familiar but she wasn't sure. She'd look into it. "Why not just kill the both of them?" |
Isabella Gaunt-Kingsley

- sixth year slytherin ♔ serpent heir & prefect

-"She was unstoppable and she took everything she wanted with a smile."
Message Me – 11:49, August 7, 2018 (UTC)

"No," she said and leaned forward to snag another pretzel. "His birth mother was a Serpent. Georgia. Other than that, it's just Finch-Hatton and his adoptive mother, Felicity Blake." She pondered on Artemisia's question for some time before sighing. "Emmeline, James, Dom, Leo, Caelia, and most of the originals are now gone. That's why I haven't killed them. Because as much as I don't trust either, we need the members." In truth, the only member she trusted entirely was Wren. He knew things about her that not even her own mother and gang knew - a juicy secret.
| | |
| --- | --- |
| | "Considered threatening the adoptive one?" She asked, "just for extra incentive." She was silent for a moment at the member situation before sighing. "I'd rather a small but loyal group than the opposite," she pointed out, "why the fuck did Leo leave? Fucking hopeless. Do you know how much effort I put into him? What a waste. Though, I put more effort into you so I guess it works out. Still a bloody waste of my time. What more should I have expected, though? Kids of Ambrose. They're all hopeless." |
| | |
| --- | --- |
| | She was honestly unsure how to treat this whole situation. It almost seemed too...teen drama-esque romance for her. And Arty wasn't the romantic type, at all. "You don't think the Serpents will survive for much longer do you? If it keeps up the pace it is now." |