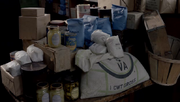 This, for Hebath, is his "Storage of Shame", the place where he secretes those things he has purloined and "redirected" from family use and ownership, in order to help the survival and state of Rookou house elves. From here he distributes to the Stable Folk those little gifts which buy their labour in the Servants' Quarters, and, until recently, this was also where he kept the meagre supplies of subsistence grain which prevented his, Ginger and Turen's starvation. With the return of several family members, however, the food budget has increased massively, and table scraps are now more than enough to sustain all the house elves.
Archive
Roleplay
Ad blocker interference detected!
Wikia is a free-to-use site that makes money from advertising. We have a modified experience for viewers using ad blockers

Wikia is not accessible if you've made further modifications. Remove the custom ad blocker rule(s) and the page will load as expected.