This is a layout of the complete buildings and grounds of the Rookery (those parts known to all inhabitants - an (s) for secret indicates otherwise, an (fs) that it was formerly secret). Everything beyond the Puisseat is accessible only through the magics of that place. Due to a serious psychic hiccup, there is currently no Laird.
The Rookery itself

Tulula's escape route
Underground (s)
Training Area - not literally underground
Grounds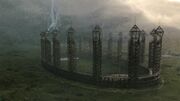 Ad blocker interference detected!
Wikia is a free-to-use site that makes money from advertising. We have a modified experience for viewers using ad blockers

Wikia is not accessible if you've made further modifications. Remove the custom ad blocker rule(s) and the page will load as expected.