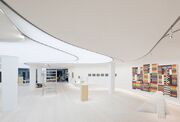 Play zones. There are the peeling remainders of posters Archie loved as a boy. Even Hebath hasn't ventured here in over a year, and the dust is thick throughout, in the randomised way of true neglect. 'Archie's' present passage through disturbs not even this dust.
Archive
Roleplay
Gallery
Ad blocker interference detected!
Wikia is a free-to-use site that makes money from advertising. We have a modified experience for viewers using ad blockers

Wikia is not accessible if you've made further modifications. Remove the custom ad blocker rule(s) and the page will load as expected.