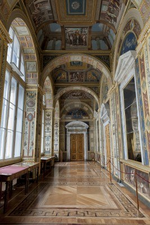 The Rookou Portrait Gallery and more.
There are numerous elements to this floor, as if it suffered from something of an identity crisis.
Somewhere among the memorabilia is the chamber used by Arcturus Rookou I, Arcturus' grandsire, in his role as Grandmaster of the Secret Serpents, another Pure-Blood Supremacist organisation.
From the days when the estate actually ran in a Mugglesque manner, there is still a room which housed the Lord's man of business and his clerk.
For some unexplained reason, a set of 19th century gardening tools are also stored in a room here.
As well as the portraits per se, there are whole sections of busts and other depictions of various Rookous.
There is the Armour Room, with all its reminders of those who were fool enough to pose a threat or challenge.
There's a chamber filled with "defanged" Dark items - a whole series of neutralised former killers.
This floor also houses the room the teenaged Arcturus converted to serve as a gymnasium.
A large vase knocked off its stand recently by Hebath fell through the wall behind it, revealing the latter to be an illusion. On the other side was a bedroom, which, to judge by the massively reinforced bed, must have belonged to Arcturus I's near 350 kg bodyguard.
The books which contain the family's long-standing fascination with philately and numismatism are also squirrelled away here.
Archive
Roleplay
Gallery
Ad blocker interference detected!
Wikia is a free-to-use site that makes money from advertising. We have a modified experience for viewers using ad blockers

Wikia is not accessible if you've made further modifications. Remove the custom ad blocker rule(s) and the page will load as expected.