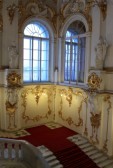 In a moment of uncharacteristic whimsy, Arcturus designated this his "Dream Sanctum" and then, overwhelmed by his own constant belief in his eternal rightness, refused to recognise his error. So, to the family and the house elves, "the Dream Sanctum" it is. There is an extremely ornate staircase which links all the floors, and begins from here. 'Archie' avoids this area too.
Running straight and true through the middle of this floor is the family Portrait Gallery, containing every single member of the family who wasn't terminated by others. The pictures up to the 1940s are oil paintings enchanted to observe, and pass judgment on, any passing by, and from the '40s onwards magical photographs are the order of the day. Arcturus is notably absent from all illustrations here, having taken down the family portrait with his parents, and replaced it with individual shots of "Mater" and "Pater". Those pictures come from a set of shots, others of which hang now in the Withdrawing Room, and, rather more surprisingly, the Kitchens. This floor is slowly yielding up more and more of it long-lost secrets.
Arcturus rarely enters this floor, as it contains the various staterooms in which, during his youth, he was compelled by Mater and Pater to practice and perform, piano, art and dance. There are also numerous salons and smoking rooms, which his parents likewise used to employ. While not entirely abandoned, it is very little used. It houses some extremely happy memories, however - for Archie.
These are the sleeping and cleansing facilities for the wing, comprising some twelve bedrooms, including the Master, each with en suite, and two immense bathrooms, each some 30m by 15m, and 80% occupied by a single marble bath. Arcturus often avails himself of the opportunity offered by the pools (which is what they are).
This is where young Arcturus came to play, two huge areas, with relatively little to clutter them up. As a youngster, Arcturus possessed a vivid imagination, and peopled this place with no end of friends, various in their origins and unanimous in their tolerance. As his parents' teachings took hold, he came here less and less, and hasn't set foot on the floor in fifteen years. Archie, on the other hand, drags Iz up here with great regularity, forcing him to be the sole audience to endless recitals.
Though he could never admit it, even to himself, this is the true root of the "Dream Sanctum" appellation, the endless repository of toys and knick-knacks which young Arcturus slowly wove into a world without his family's straightjacket of blood and duty. There are all his sentimental elements, boxed-up and dried up, to be found by anyone brave enough to risk coming to this place. Arcturus is starting to explore this area once more.
Archive
Roleplay (In the doorway or the antechamber)
Gramophone
As a wind-up mechanism, albeit wound by magic in this household, this is the only form of entertainment technology Arcturus, like his father before him, will tolerate in the building. His own tastes are unsurprisingly unimaginative.
Slid between volumes 44 and 45 of Bartholomew is a little number Arcturus never plays when there is the slightest risk of anyone else (or even a house elf) hearing - his own form of guilty pleasure.
Ad blocker interference detected!
Wikia is a free-to-use site that makes money from advertising. We have a modified experience for viewers using ad blockers

Wikia is not accessible if you've made further modifications. Remove the custom ad blocker rule(s) and the page will load as expected.