The Quidditch Pitch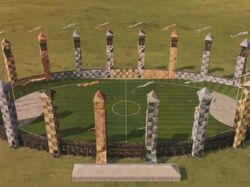 In this location the game of Quidditch is played. The pitch in the shape of an oval, five hundred feet long and a hundred and eighty feet wide. Due to the nature of the sport, spectators watch the game in high towers.
Archives
Roleplay
Charlie and Kell
Kell Larsen

- Hufflepuff Graduate

-:)
Message Me – 22:12, June 21, 2018 (UTC)

Teagan's just hit him with a bludger (for the second time today) and his arm is honestly starting to feel a bit fragile, so he's taking a break. Sprawled on the grass a few metres from the benches, he's only just noticed the girl with the camera who is definitely not in Hufflepuff - could she be another team's spy, come to check out the Hufflepuff team's tactics for the year? Joke's on her if she is. Hufflepuff has no tactics. Ever. They win based on one-hundred-percent luck. "What're you photographing?" he calls over to her, hand across his forehead to block out some of the sun.
Kell Larsen

- Hufflepuff Graduate

-:)
Message Me – 22:29, June 21, 2018 (UTC)

Oh, that pickup line's just made this entire conversation awkward for him. He drops his head back onto the grass in a last-ditch effort to appear unaffected and ~cool~. "Sorry to break it to you, but I'm one-hundred percent gay," he says, then gestures in the general direction of the mostly female team. "Pretty sure they are too, though, if you're into girls."