Stone Bridge Tower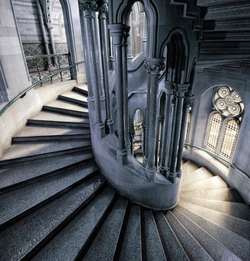 Stone Tower Bridge is a large, jutting stone structure attached to the other end of the
Stone Bridge
and home to many winding stairs and beautiful stain-glass windows with a good view of the
Black Lake
. At the very top of the tower is large room covered in cobwebs and years of dust. This room is storage for all things that Hogwarts may need in case of non-magical emergencies; like spare boats and wood. In case of emergency, each box has spare food rations, bottled water, emergency kits and really anything else you would need.
Archives
Roleplay
Valkyrie and Celestinus
Celestinus Warbeck

- Gryffindor, 5th Year

-Musical Prodigy
Message Me – 17:16, September 7, 2018 (UTC)

On his way up the tower, Celestinus is honestly about to keel over and take a nap on this cold stone staircase. Sleep is for the weak, after all. The best time to dm people is 3 am so why on earth would he commit to a decent sleeping pattern? Anyway, he's coming up the stairs and he spots one of the most beautiful girls he's ever seen (though she doesn't look too happy). Of course he decides to make conversation, so a confident smile settles over his sleep-deprived features and he calls, "Alright there darling?"
Valkyrie Grimm

- fifth year gryffindor ❃ half veela & living dead researcher

-"She's like a breath of posion in my lungs, she gives me nothing but darkness but wants me to be her sun."
Message Me – 17:21, September 7, 2018 (UTC)

Valkyrie is startled by the sudden voice, having seemingly been in her own little world. In a sudden rush, Val pushed her palms down onto the ledge to extinguish the flames that threatened to engulf her whole hand and offered a not-so-casual slash innocent smile, her half lidded eyes sweeping over his form. Was he new? Then again, she had made herself extremely scarce these last few weeks of school so maybe she was wrong. She loved ghosts so much, it appeared she metaphorically became one. "I can't remember why I was going this way," she finally admitted before peering down at her bag, hoping it would offer some clues.
Celestinus Warbeck

- Gryffindor, 5th Year

-Musical Prodigy
Message Me – 19:49, September 10, 2018 (UTC)

"Well, it can't have been too important," he declares, suppressing a smirk at how she jumped. "I wouldn't worry, anyway. I'm Warbeck, by the way," he introduces, not bothering with his first name. It's a shit name, anyway.