Slytherin Dormitories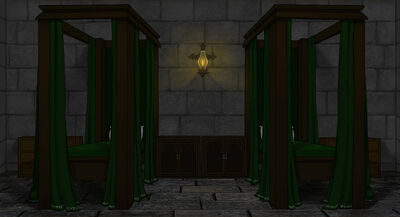 Welcome to the Slytherin Dormitory! The students sorted into Slytherin house will sleep here at night, and over the holidays if they wish.
All students will turn their lights out and go to sleep at 10:00 p.m. sharp. There will be no talking after that time, and all lamps have been charmed to not turn back on. Any student caught out of bed, who does not have a convincing reason, will be landed in detention.
Also, any students from a different house found here without a
really
good reason will only lose simply House points if they are very lucky.
Noticeboard
No notices right now.
Archives
Roleplay
Boys' Roleplay
Max and Xavi
Jamil and Éti
Girls' Roleplay
Allura's Scavenger Hunt
Game Master
Send Me an Owl! - 21:19, August 12, 2018 (UTC)
It's approximately five-thirty in the afternoon when Allura arrives to the dormitories. On her bed is a Piglet onesie, but next to it are Piglet ears. There's also a basket filled with all kinds of candies shipped directly to the United Kingdom from Walt Disney World, through overnight delivery. Sugar powder, an assortment of chocolates, and different bags with different types of candies. There's a folded note that, when open, reads:



"You can't stay in your corner of the Forest waiting for others to come to you. You have to go to them sometimes."



Find me at the place where the merpeople lay.
p.s. you can just wear the ears if you want!
Allura Mendoza

- Fifth Year Slytherin • Neverland's Jane

- "Yes, I'm alone, but I'm alone and free - so stay away, and you'll be safe from me."
Message Me  - 21:24, August 14, 2018 (UTC)

Allura was about to head to the Kitchens after dropping off her books and robes when she noticed a particularly pink something on her bed along with a collection of sweets. Knowing exactly who they were from, Allura couldn't wipe the grin off her face. She picked up the note as if it were made from the most precious gems in the world and read every word with a bright smile. This dork... Allura shook her head and stashed the note and basket of candies under her bed. She quickly changed out of her clothes and into the onesie he'd left for her. "He better be wearing Pooh's." Allura giggled. Only Andrew could make her feel like this. It was almost terrifying if she weren't so happy. And with that, she headed for the Black Lake.