This is my room. I'll either be meditating, working or sleeping here. Feel free to come by any time.
Gear
My auror gear has to be in pristine condition, so I only buy the best. It could be the difference between life and death.
I own a top-of-the-range backpack to store all my stuff in.(It also has an everlasting featherweight charm and an everlasting undetectable extension charm on it.)
All of the things listed under the image are what I put in it.
I also have a set of formal robes, which is really what I usually wear with my hogwarts robes
My wand is 15 inches, made of Oak, with a Unicorn Hair core.
I own a firebolt, and enjoy playing Quidditch with my daughter. Usually we just chuck a ball around, though.
I own a Snowy owl, called Xandia,(pronounced Zan-da).
Even though I have all this fancy gear, I still value human input. I may seem to have every single thing needed, but there will always be something that comes up that you're unprepared for.(Wow- That sounded cold-blooded.)
Roleplay
Archive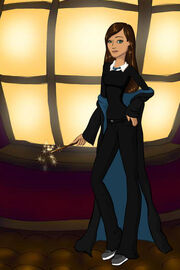 Ad blocker interference detected!
Wikia is a free-to-use site that makes money from advertising. We have a modified experience for viewers using ad blockers

Wikia is not accessible if you've made further modifications. Remove the custom ad blocker rule(s) and the page will load as expected.