Shrieking Shack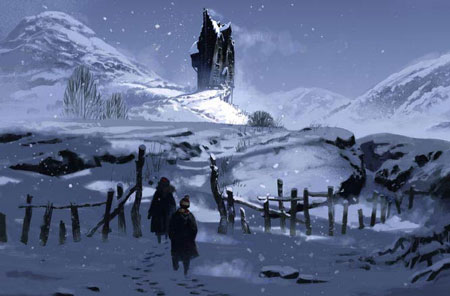 The Shrieking Shack is an abandoned house in
Hogsmeade
that is believed to be haunted. Few dare to enter the house, even the ghosts of Hogwarts, for fear of the terrible creature that is rumored to live inside. In reality, the terrible monster was Professor Remus John Lupin in werewolf form.
Archive
DO NOT EDIT THE ARCHIVE. Instead, keep roleplaying below.
Roleplay (Inside - Hogwarts)
Roleplay (Outside - Hogsmeade)
Isabella and Harley
Harley Rosier

- Sixth Year Gryffindor

-Extraordinaire Wannabe
Message Me – 13:12, September 17, 2018 (UTC)

Though he'd never known Isabella personally, it didn't make the task of capturing her any easier. She was, after all, one of his year mates and that could've spelled disaster for him on a social level; even besides what the Serpents might've - and still could - do to him. He was glad that, no matter how close she seemed to be to one of the front runners of their year in Potions, a simple sleeping potion was all it took. He'd chosen the Shrieking Shack because it was of easy access and nobody ventured there often enough. Unaware that she was awake, he made his way about the shack, his footsteps echoing against the creaks of the old wood. His task was simple - kill the Serpent Queen heir.
Harley Rosier

- Sixth Year Gryffindor

-Extraordinaire Wannabe
Message Me – 13:33, September 17, 2018 (UTC)

Having entered the room, Harley was fascinated with how she moved. He didn't know what he expected, not really, but it was more than interesting to see how Bella moved now - the composure she often had around Hogwarts was gone and part of him felt proud because he did that. He expected her response, he really did, but it didn't make the processing of and response to it any easier. "If you get out," he corrected, gaze meeting hers, "Even if you did, killing me would be your biggest mistake yet." He looked her up and down, "You're not in any position to make threats, so it'd be wise to shut up."
Isabella Gaunt-Kingsley

- sixth year slytherin ♔ serpent heir & prefect

-"She was unstoppable and she took everything she wanted with a smile."
Message Me – 13:41, September 17, 2018 (UTC)

The female narrowed her eyes to slits, lip curling venomously as she recoiled ever so slightly, like she was considering her options. "Killing you would be my most satisfying murder yet," she purred softly, her sharp finger nails digging into her thighs as she tilted her head. "Let me tell you something, love. The only person who can tell me to shut up is the one who has the balls to make me." Isabella allowed the corner of her mouth to twitch up into a sardonic sort of smile. "What do you want? As fun and kinky as this is, I do grow weary of these chains," she growled, her sarcastic tone shining through the annoyed quips.