Reynaud Etienne
Hufflepuff
(Character Roleplayed by
Kirá
)
"
The final test of a gentleman is his respect for those who can be of no possible service to him.
"

–William Lyon Phelps
Reynaud Etienne - Hufflepuff
Send Me an Owl! - The absence of flaw in beauty is itself a flaw. Havelock Ellis
"Etienne. Reynaud Etienne. It is my pleasure to make your acquaintance."
Biography
Early life
My family, the Gascoigne and Etienne families are Pure-Blood dating back thousands of centuries. My mother Brielle Astrid Gascoigne, and my father Fortune Marcel Etienne met as students of Beauxbâtons. They were, and might still be polar opposites since they met during their first year. He was a mouthy, and conflicted young boy, she was a judgemental, perfectionist. She is the only one of the two who has not changed very much.
Brielle, and Fortune were acquaintances for years, and years before deciding to begin a more intimate relationship. It was not until after they had both graduated that they went on their very first date. The first was not the most successful, he drank too much, and she had an allergic reaction to an incorrectly prepared meal. It was the only time she had not made a big production of exactly how her food was made.
The unpleasant parts of their first date were pushed aside, they tried again, and this time he did not drink at all, and she turned the dial on her perfectionism to 11. It turned out much better than either of them expected, it lead to many more dates. Dates where he abstained from alcohol, and every choice was hers to make. They had a long engagement, as I have been told, that was not my mother's choice.
After celebrating their marriage they welcomed their first child together. In autumn, my eldest sister Charisse Joie Etienne (b. August 12, 1990), followed two years later by the first son, my eldest brother Fortune Gautier Etienne (b. June 4, 1992). The first two Etienne children are perfect angels, and always do what is asked of them.
In the spring, a few months before Charisse's fourth birthday, and Fortune's second birthday, the disgustingly content quad welcomed twins, my brother Beauregard Didier, and my sister Bertílle Didina Etienne (b. March 29, 1994) into the family. The first fraternal twins in the Etienne family in a decade, Beau has mother's darker blonde hair, while Bertí has father's lighter blonde hair. They both share this one trait of mother's, the Gascoigne freckles.
Less that one year later another daughter, my sister Fauve Brígh Etienne (b. January 9, 1995) was born. Fauve is a very special child, she was born a Metamorphmagus. She is the only one in our immediate family, and the only one known in either bloodline.
With their children growing, my mother Brielle and my father Marcel decided it was time for another. They discussed at length in that period of time if they should start the process all over again. Their last, and their youngest, Reynaud Aristide Etienne joined the family November 17th 2002. From birth, all of us Etienne children were taught that magic, and the ability to retain knowledge was priority. For a very, very long while the males in our line excelled in magic while females are far better in academia. I have been the exception.
Family Members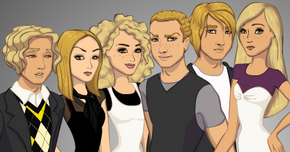 Etienne
Fortune Marcel (Father)

Brielle (Mother)

Beauregard (Brother)

Bertílle (Sister)

Fauve (Sister)

Fortune Gautier (Brother)

Genie (Sister-in-law)

Hervé (Nephew)

Honorée (Niece)

Balcombe
Gage (Brother-in-law)

Charisse (Sister)

Gage II (Nephew)

Emblyn (Niece)

Cendrillon (Niece)

Gascoigne
Laurence (Uncle)

Cybille (Aunt)
Appearance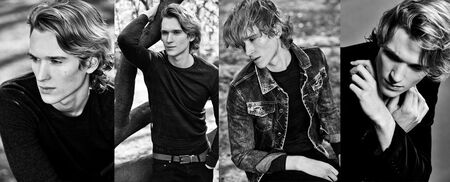 The Etienne children all resemble our mother, or our father. I, myself have more physical traits of my mother. I have her brown eyes, and softer facial features, some sort of amalgamation of the twins Beau, and Bertí. I have my father's darker, dirtier blonde hair, and his light skin complexion. Much like my brothers I also lack my mother's family trademark, the Gascoigne freckles.
Personality
It is one of those crosses a young man in my position has to learn to bear. My mother and my sisters are the very essence of beauty, so what else could I be? D'accord, a Hufflepuff. No, I mean it - sérieusement. I am a Hufflepuff in my very bones. What? You think I want to fight that hard for a place in front of the mirror every morning? Pas du tout. I am what I am, but who I am, c'est a moi. We are loyal, we do our best - and know that, de temps en temps, it will not suffice. Still, we essay, we try. And we enjoy life. That's what people so often forget about we Hufflepuffs, we take pleasure. We relish. We savour. Why do you think we live next to the Kitchens?
Relationships




Childhood friend

I was raised with Sascha, I am four months older than she is; our mother's are best friends and our father's were often forced to spend time together because of it, bringing the youngest children (at the time myself and Sascha) along with them. - I tolerate her mostly because I knows her better than anyone else

Gryffindor

Cressida and I when I was introduced to Sascha's friend Amelie, I believe it was in Transfiguration. I was immediately taken with her, and she has always been one of very few people I genuinely liked talking to. I find her uttlery amazing, and I have spent a lot of my time at Hogwarts just standing around watching her be glorious.

Slytherin

Amelie is Cressida, and Sascha's friend. I met her in class the same time I was first introduced to Cressida. I don't really know her. She seems sweet, and if Sascha, and Cressida like her I cannot possibly have a problem with her.

Kristian Beckett

Ravenclaw

Kristian was very kind to me, which at that point in my life was odd, not odd but unexpected. Kristian made it possible to forget all about my redhead worries.
Etymology
The name Reynaud is French, it means wise, bold, courageous, well-advised ruler or mighty and brave, variation of the name Raynard.
Aristide, my middle name means is Greek it means descended from the best, lion or excellent and kind, variant of Aristedes, Aristo, or Aristidis.
The paternal last name Etienne in French means crowned, in Greek it means crown. It is a variation of the names Steven or Stefan.
Possessions




Text Books

Three sets of plain work robes (black)

One plain pointed hat (black) for day wear

One pair of protective gloves

One winter cloak (black, with silver fastenings)

One cauldron (pewter, standard size 2)

One set of glass phials

One telescope

One set brass scales

Magical Photographs

11" Cherry Wood Dragon Heartstring core wand
Gallery
O.W.L.s

Herbology - E
Potions - O
Charms - O
Transfiguration - E
Defense Against the Dark Arts - O

N.E.W.T.s

Herbology - E
Potions - O
Charms - O
Transfiguration - E
Defense Against the Dark Arts - O
Mythology - O
Ghoul Studies - O



Ad blocker interference detected!
Wikia is a free-to-use site that makes money from advertising. We have a modified experience for viewers using ad blockers

Wikia is not accessible if you've made further modifications. Remove the custom ad blocker rule(s) and the page will load as expected.