Quality Quidditch Supplies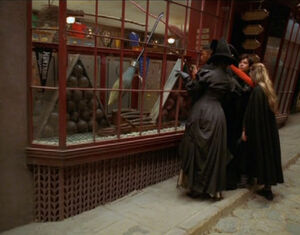 Broomsticks: First Years are not allowed on their own broomstick in term time.
Firebolt
Shooting Star
Comet 140
Comet 180
Comet 220
Comet 260
Comet 290
Nimbus 1000
Nimbus 1001
Nimbus 1500
Nimbus 1700
Nimbus 2000
Nimbus 2001
Cleansweep 1
Cleansweep 2
Cleansweep 3
Cleansweep 4
Cleansweep 5
Cleansweep 6
Cleansweep 7
Cleansweep 11
Contains a large jar of Fleetwood's High-Finish Handle Polish, a pair of silver Tail-Twig Clippers, a brass clip-on compass, and a Handbook of Do-It-Yourself Broomcare.
Balls You may also choose balls for Quidditch. Unlike Broomsticks, there are no age restrictions.
Quaffle
Bludger
Golden Snitch
Beater's Bat
Proprietor and Employees
Archive
Roleplay
---