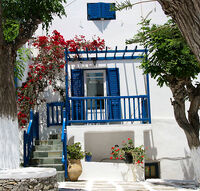 This is the Greek home of the Papakonstantinou sisters.
Kitchen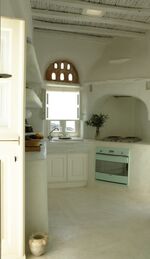 This is the kitchen. This room usually smell deliciously of Greek food cooking. There is no microwave, refrigerator, or any muggle appliances, being the kitchen of a magical family.
Living Room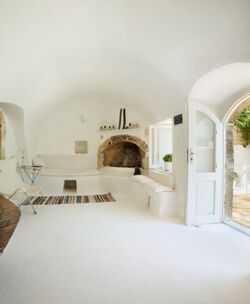 This is the Papakonstantinou family's living room, and the most used room. The doorway leads to a little courtyard.
Courtyard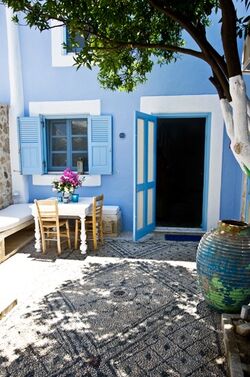 This is the courtyard. The living room leads onto it. The Papakonstantinous loving spending time out in the courtyard. They sometimes eat out here too.
The Grandparents' Bedroom
This is the bedroom of the twins' grandparents, Evangelia & Iason. It is downstairs. The window is almost always open, and a bird perch stand right by it. During their lives, they made a lot of friends, and they write to them a lot.
Stairwell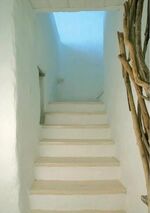 These stairs lead to the second story of the house, where the master bedroom and the twins' room is.
Master Bedroom
This is the master bedroom, the bedroom of Gaiane and Alexandros.
The Twins' Room
This is Heaven and Nevaeh's room. They could have had their own rooms in they wanted, but for so long they hated to be separated. As babies they slept in the same cot and played with the same toys, and for much of their childhood they would cry when one was away from the other, so it didn't seem like a very good idea.
Garden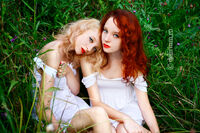 This is the gardens.
For many years, the grass under the olive grove was one of the twins favorite places and they could often be found there.
There aren't a whole lot of gnomes, but there as certainly a few.
Here, you might see a speckled kneazle peaking at you though the leaves, or a little tortoise slowly but surly digging a burrow. In the evening, you might see an owl hunting, silent on the wing.
Role-Play
Kitchen
Living Room
Courtyard
The Grandparents' Bedroom
Stairwell
Master Bedroom
The Twins' Room
Garden
Archives
Ad blocker interference detected!
Wikia is a free-to-use site that makes money from advertising. We have a modified experience for viewers using ad blockers

Wikia is not accessible if you've made further modifications. Remove the custom ad blocker rule(s) and the page will load as expected.