North Side Diagon Alley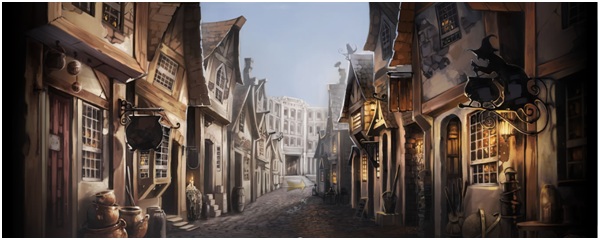 As you walk through the brick archway, the sheer pressure of people is suffocating. The cobblestone street clicks under your heels as you squeeze down the street. A stumpy witch, with a kind, round face and wearing an emerald hat, bumps into you, while a tall, balding wizard pushes past carrying a perturbed-looking owl. You pass through the initial crowd, moving toward your shopping destination. Down a
snickelway
lies
Knockturn Alley
.
Archives
Roleplay
Grace and Kamille
Bat and Whitney
| | |
| --- | --- |
| | The biggest difference between London and her home was that she had no one to trail her around carry her bags for her. She didn't mean a minion, she just meant a...butler or whatever you call them. Employees. Maids. Servants. People you pay to do your bidding. In London, Bat didn't have that thus she was forced to carry her own bags. Furthermore, she has to walk on foot here. Did anyone care about how tired they're going to be in an hour or so? Obviously not, or magical London would have made some sort of transportation system through diagon alley. |
Whitney du Mont

- Hufflepuff, 6th Year

-"blessed be she who is both furious and magnificent"
Message Me – Find Me

It was an uncharacteristically warm summer, and she hated living with her cousins, had no intention of visiting her parents in jail, and in all honesty - wanted a stiff drink and a cigarette. Unfortunately, she's underage. So she instead could be found people-watching from a bench in North Side of the popular Wizarding High street. Her eyes fall upon the striking young princess, having recognised her from daily prophet articles. But Whitney's not an idiot. She sits from afar and watches the poor girl fluster about with her myriad of bags.
| | |
| --- | --- |
| | She should have dragged Davu with her and made him carry all this stuff. The world tells her that's the role a man has-carry everything for the ladies-so she may as well take advantage of it. Woman suffered enough under the patriarchy so Bat may as well use it to help her. Maybe she should ask one of the men around her to carry it. Surely a wink and a smile will do it. Men are suckers for that sort of stuff, aren't they? Eventually, she made it to a bench and dumped all the stuff onto the free space, carefully making sure they weren't touching the other girl sitting on it. Bat didn't trust the people here. Who knew what they would try. |
| | |
| --- | --- |
| | Bat had watched way too many reality tv shows to trust 'sweetie' and her eyes slowly slid onto the other girl to blink over at her before her own lips pulled into a smile. "Nothing I can't handle...darling," she responded, adding on the last word after only a seconds worth of hesitation, "sitting here long? Has to be a little boring." |
| | |
| --- | --- |
| | She paused. This was unexpected. She didn't usually get recognised and found herself delighted that she was. "Only in Lesotho," she responded with a shrug, "parents decided to cut down when we moved to London. World domination, huh? Good luck with that," she said with a snicker, believing it to be a joke. |
| | |
| --- | --- |
| | "I don't know...I like a change of pace. I like the crowds, the urban life. I'd hate to be stuck in one place for my entire life," she said with a shrug, "and guess minister of magic is on your list of to dos?" |
Roy and Anthony
| | |
| --- | --- |
| | Hey roamed the location, it had been years since he's been to the Diagon Alley and frankly, he was trying to get refamiliar with the area. So far, he was failing and lost to say the least. |
| | |
| --- | --- |
| | There was a lot of people at Diagonal Alley and even then, Anthony had never expected to run into anyone. Then again he really wasn't paying much attention. Upon hearing the shattering glass and the boys word, Anthony immediately felt bad. "Je suis désolé, je serais plus qu'heureux de vous aider à acheter plus." he voiced back while gazing at the boy then down to his bag. |
| | |
| --- | --- |
| | His head moved in a gentle shaking motion. "No I'm actually from the UK, after my years at Hogwarts though, I spent a lot of time traveling" Anthony then reached for his wallet, continuing his speech as he did so. "I stayed in France for a while and studied the language." He explained before handing Roy the currency and smiling. "Again, I'm really sorry." |
| | |
| --- | --- |
| | Anthony shook his head at the others words. "It's alright, I feel bad for my part and honestly, moneys not much of an issue." His statement wasn't meant to sound like he was bragging but, he'd understand if it was taken that way. "Anthony Bostwick by the way. And you are?" |
| | |
| --- | --- |
| | His lips pulled up into a gentle smile, a chuckle escaping his lips just afterwards. "Nice running into you too." Anthony replied, offering his hand out to the other male. "It's nice to know there are a few friendly faces in this sea of people." |