Alistair Fitzgerald's Office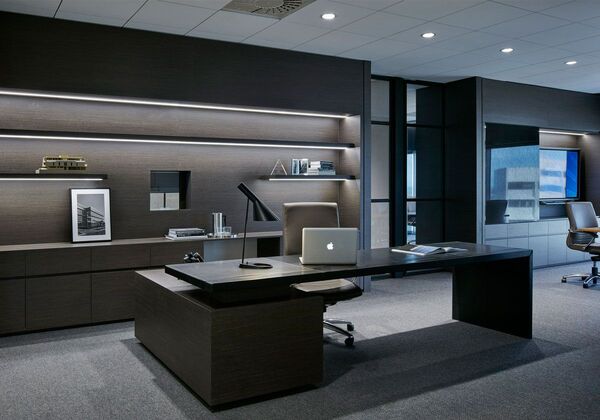 The Minister for Magic's Office is located on Level 1 of the Ministry, Minister for Magic and Support Staff.
The current occupant is Alistair Fitzgerald.
One of the first things Alistair did when elected was renovate the office. Now it's modern and covered in furniture and artwork that doesn't cost a penny less than at least fifty thousand.
Archives
Roleplay
Aurelian and Alistair
Aurelian Cromwell

- minister for magic's personal assistant

-"I hope that you like the stars that I stole for you."
Message Me – 21:50, October 23, 2018 (UTC)

The man stepped into his office and wordlessly flicked his wand, allowing it to promptly close behind him. Slipping the wand up his sleeve, Aurelian adjusted his tie and allowed a lazy smile to occupy his face. "Precisely. Our family turned from muggle to strictly pureblood over the years. We were set into arranged marriages to prevent being tainted by muggle blood but Oliver is from another defiant branch." His sugar coating slipped so easily from his mouth that the prejudice seemed natural and likely exactly what Alistair wanted to hear from someone applying to be his personal assistant. Even if he didn't much care about blood status being linked to social status, pretending he did allowed room for Alistair to be impressed.
Bailey and Alistair
「 Bailey Jeon 」Ravenclaw Alumni • Ministry Advisor
As the advisor to the minister, Bailey felt as though it was his duty to make sure Alistair didn't make any stupid or impulsive decisions. However, since the new minister had been in office it seems as the that was all he was doing. Having been in Alistair's position as minister, as well as being advisor to the past minister Julius, Bailey knew his way around going about certain things; and in regards to the half-breeds in the wizarding community, Alistair was not making a wise decision. Therefor, hoping to talk some sense into his new boss, Bailey knocked on the minister's door.
Message Me • 03:28, October 17, 2018 (UTC)
「 Bailey Jeon 」Ravenclaw Alumni • Ministry Advisor
Bailey knew Alistair was a piece of work, but he couldn't even say his name right? Bailey was a former minister and with that came a lot of media exposure. He figured Bailey would at least have heard of him before. "It's Bailey Jeon," he responded while trying to keep his composure. Having to already hide his true feelings wasn't a good sign. "Anyways sir. I was hoping I could speak to you not only as your advisor but also a former minister. You know, regarding all these laws you'd like to pass."
Message Me • 09:01, October 20, 2018 (UTC)
「 Bailey Jeon 」Ravenclaw Alumni • Ministry Advisor
Crossing his arms as he watched the man for a second, trying to control his facial reactions as to not hint at how much hatred Bailey felt for the man. "I think you know why I'm here, Alistair." He started, surprising himself with how calm he actually was. "As your advisor it's my job to make sure you don't do anything that reflects poorly on the ministry and you, and with all due respect these... decisions will do just that."
Message Me • 00:20, October 26, 2018 (UTC)
「 Bailey Jeon 」Ravenclaw Alumni • Ministry Advisor
Arms still crossed, Bailey shook his head at the minister in disagreement. "With all do respect, I honestly wont see the positive results at all in this. You're putting people in the British wizarding community in a precinct and for what reason other than something none of them can help?"
Message Me • 06:30, October 29, 2018 (UTC)
「 Bailey Jeon 」Ravenclaw Alumni • Ministry Advisor
"Am I a menace, or are you just mad that everyone seemed to care a lot more about me, the first non-wizard minister, than they do about you?" He paused for a second, taking a deep breath to calm himself down. "And for the record, they really aren't a menace and the wizarding community was living rather peacefully alongside them before these new rules were put into place."
Message Me • 07:22, October 30, 2018 (UTC)
「 Bailey Jeon 」Ravenclaw Alumni • Ministry Advisor
Was Bailey willing to risk his entire career for what was right? Partially, but he also couldn't do that to his family. They needed him he rather than in the precinct. "Let it be known that I'm not the only one who is spreading these so called false ideas throughout the community, and you'd be wise to listen to your advisor." He said blandly before walking towards the door and leaving Alistair's office.
Message Me • 07:15, November 4, 2018 (UTC)
Luis
| | |
| --- | --- |
| | |
| | |
| --- | --- |
| | |
Luis Fernando Vicario

- Durmstrang Alumnus - Business and Lineage

-
Message Me – 01:22, October 23, 2018 (UTC)

Luis takes a sip of the scotch, lip bending upward to signify his enjoyment of the alcohol. "Opportunity. They say when one door closes, another opens right? I'm a businessman by trade but I've done some politics in the past, I was an ICW representative for Mexico. Really, I've become somewhat enamored with the UK. Moreso now that I know the ministry will look out for my core values." The reference is, of course, in regards to the recent policies. "I asked myself, what could I do for the cause? And I realized, I would gladly serve such a great administration, to make sure that these core values are reflected well with other pieces of administration. I may not have ever bn a department head, but I'm an effective leader." He smiles fully, taking a long draw from his glass. "I have a lot of ideas."
Luis Fernando Vicario

- Durmstrang Alumnus - Business and Lineage

-
Message Me – 20:48, October 26, 2018 (UTC)

Good question. Luis sloshes the rest of his scotch, then finishes it off. Mexicans know how to drink. "Well, I think that I respect all the work the auror's are doing, really, but we need to treat these creatures like the animals they are. " A planned but brief look of disgust crosses his face. "My children are telling me that...word is there are some half freaks resisting. I think we should encourage wizards to be good Samaritans. Add some incentive towards the reporting of lying half breeds. On top of that, I think we should send a strong message to these sneaky creatures that lying will not be tolerated. I think The department for regulation and control should create a task force to collect these reported liars and deport them." He smiles in a way that conveys no mirth. "I'm a very rich man too. If funds are needed to fund this, I'd gladly chip in. The safety of our community is the most important thing to me."
Ferlen
Ferlen - Alistair Fitzgerald's Senior Undersecretary
Send Me an Owl! - 13:02, October 9, 2018 (UTC)
After the meeting had adjourned he'd make his way up here to talk with the Minister. "That was quite a speech you had prepared. You're aware actually changing laws to allow for an army, internment, and segregation will take time especially considering we already have laws preventing such correct?"
Ferlen - Alistair Fitzgerald's Senior Undersecretary
Send Me an Owl! - 12:08, October 10, 2018 (UTC)
He'd frown slightly wondering how the Minister had heard that given that he'd only said it a few minutes ago. Still...the Minister didn't seem overly upset so clearly he hadn't been able to eavesdrop on their conversation. He'd make sure his tone was reasonable. "Sir, with all respect I need those Heads to be able to accomplish your goals. Kit has a knowledge of what types of half-breeds live in here, who they are, and where they live. Without him it will take much longer to round them up or identify them for the list. Tamara's has close relationships with the ICW members and will be able to keep them off your back or from asking too many questions while we're building the army and such. If we don't have anyone there an official ICW investigation could begin and they'd find out what's going on before we're ready and could attack us to stop us before we can defend against something like that. As for Cyril without him we don't have a tech department or any chance of a space program. He's irreplaceable with his tech knowledge. I'll talk to all three and make sure they're on board and loyal but without them some of your goals will be delayed and others become impossible."
Two Ministers Meet
Siobhan Keirs

- Slytherin Alumna

-Minister for Magic of the Republic of Ireland
Message Me – 20:04, September 13, 2018 (UTC)

It felt a little surreal being back in London for Siobhan, half because it was a place she attached with so many memories but also because the last time she was here properly she was a seventh year student getting ready at King's Cross Station - not the Irish Minister for Magic. Though to pay mind to such a thing was trivial and, quite frankly, she didn't have the time. She was here on official business; to welcome the newest British Minister for Magic, a person she'd work closely with. She'd been told to make herself comfortable in his office by some of his PAs and she did just that - pouring herself a glass of water and looking out the window that oversaw the majority of the Ministry. It was a breathtaking sight - one she could see herself getting used to.