Merpeople Kingdom
The Merpeople Kingdom is home to the Merpeople, who are frequently vicious marine creatures, designated Beasts by the Ministry of Magic at their own request. The mermaids are green and have yellowish thick hair. It is also the place for some of the tasks.
Creatures (All dangerous)
Merpeople (Do NOT approach unless in a task)
Grindylows (Okay if alone, dangerous in numbers)
Giant squid (DO NOT APPROACH UNDER ANY CIRCUMSTANCES)
Moments from the marine
Black Lake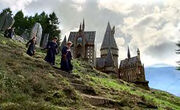 Swim to the shore of The Black Lake.
Slytherin
Swim down to the Slytherin Common Room.
Archive
Roleplay
Ad blocker interference detected!
Wikia is a free-to-use site that makes money from advertising. We have a modified experience for viewers using ad blockers

Wikia is not accessible if you've made further modifications. Remove the custom ad blocker rule(s) and the page will load as expected.