Lil Bundles Daycare and Orphanage for the Witch and Wizard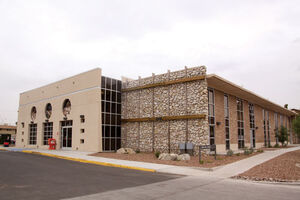 Lil Bundles Daycare and Orphanage for the Witch and Wizard offers a comfortable home and food to children who have been abandoned by their parents, or somehow find their way here. The owner
Michaela Finnley
, also offers daycare services.
Orphanage Children
Daycare Children
Horus Aten
Rosalind Whiteford
---
Employees
Michaela Finnley - Owner
Millie Greene - Summer Employee
---
Archives
---
---
Roleplay
Karsci and Grace
Grace Russell

-

Four Years Old • Baby Russell




-
Message Me – 06:07, July 4, 2018 (UTC)

She shook her head, giggling brightly, and trying to capture Karsci's finger happily. "Non!" One of the workers who had been supervising the little girl smiled at the interactions before addressing Karsci. "She's getting some faint memories of the attacks that took her mother from her and orphaned her, so she's been regressing a bit, but we're hoping we've caught that before it got worse." Grace tugged on Karsci's ear to get his attention when she felt like she was being ignored, gaze fixed on the man.
Grace Russell

-

Four Years Old • Baby Russell




-
Message Me – 04:44, July 5, 2018 (UTC)

She clumsily tried to catch the ball, but missing. The ball went rolling past her, hitting the feet of one of the older boys, a bully to little Grace, and he bent to pick it up, throwing it at Grace, sending her falling backwards with the force. "Oh... oops. Must've been an accident." He remarked, a cold expression looking at the little girl with disdain, and stalking past, slamming his heel down on the girl's fingers. Grace let out a scream, curling up into the fetal position, clutching her hurting hand, crying and screaming.
Grace Russell

-

Four Years Old • Baby Russell




-
Message Me – 04:56, July 5, 2018 (UTC)

She whimpered, burying her face into Karsci's shirt, uninjured hand clenching into the fabric, continuing to cry. The workers had hurried out at hearing Grace's ear-piercing scream, two taking the boy inside for the owner to go at for harming the youngest orphan present, with one watching Grace and Karsci nervously. "Sir? Should I grab the first-aid kit?" She asked hesitantly, ready to run for the kit.
Karsci Russell

- Gryffindor Alumni -Member of AMRS

-"Death isn't the end."
Message Me – 04:59, July 5, 2018 (UTC)

"No no, it's okay," He said and pulled out his wand. "Gracie, it's gonna be okay alright? I just need to see your hand," He said and kissed her head softly. He gently touched the tip of his wand to her hand, letting the healing magic course through her. It was a minor injury, so it healed easily. "There, all better now," He told her with a smile.