Gryffindor Dormitories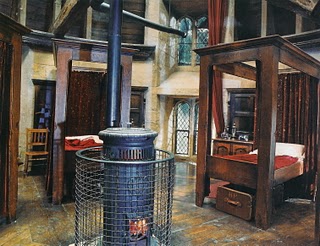 Welcome to the Gryffindor Dormitory! Here the Gryffindor students will sleep overnight. Remember, in bed by 10:00 pm, lights out, no talking and any students caught out of bed will immediately get detention, unless they can provide a very good reason for their nocturnal activities.
Noticeboard
Please try-out here if you are interested in being on the Quidditch team this coming year: Gryffindor Quidditch Team Captain
Rules
Keep your language clean, please.
No breaking school rules in the roleplay.
Great and lesser moments
Archives
Roleplay
Mason and Angélique
| | | |
| --- | --- | --- |
| Gryffindor | Seventh | 17 years old |
| HOUSE | YEAR | AGE |
| Witch | Student | Heterosexual |
| SPECIES | OCCUPATION | ORIENTATION |

"Things do not happen; things are meant to happen."

She was sitting on Mason's bed, leaning against a bedpost. Her blonde hair was plaited back neatly, hands folded across her lap with a small note clasped in her right hand. She was waiting for Mason, eyes fixed on the door.

Message Me

~ 00:44, December 11, 2017 (UTC)
Ad blocker interference detected!
Wikia is a free-to-use site that makes money from advertising. We have a modified experience for viewers using ad blockers

Wikia is not accessible if you've made further modifications. Remove the custom ad blocker rule(s) and the page will load as expected.