House Point Hourglass
Gryffindor:
0 Points
Hufflepuff:
0 Points
Ravenclaw:
0 Points
Slytherin:
0 Points
Welcome to Potions
Please Post Under The Appopriate Year
If you're looking for Years 1-4, they're located here.
This class is taught by Professor Lancaster
For a more freeform style class, go here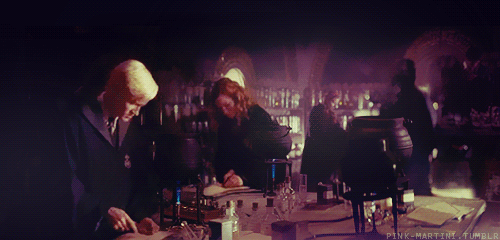 Announcements
Archive
Roleplay
Fifth Years
Sixth Years
Seventh Years
Rose Grace Black - 7th Year - Head Girl
Send Me an Owl! - 15:32, September 19, 2018 (UTC)
"Well they're useful because they give a potion's effect for an extended period of time. You could do all sorts of things with them of you applied them to the right potions such as polyjuice potion or a strengthing solution."
Rose Grace Black - 7th Year - Head Girl
Send Me an Owl! - 19:07, September 20, 2018 (UTC)
She'd hesitate waiting for someone else to speak up before slowly raising her hand. Her tone would be serious. "One is that a lot of potions have addictive properties even in a non-everlasting variety if used regularly like healing potions, pain potions, Felix Felicis, and others. One risk is making any potion everlasting can enhance that...addictive property and make the person who takes it more prone to other addictions or even insanity or other mental illnesses."