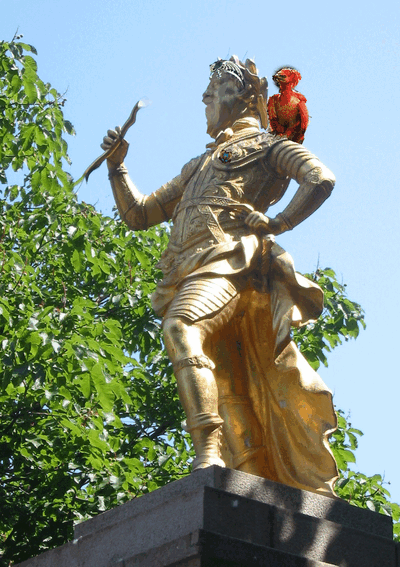 After the great War of Duxterra Ended, so did the construction for a memorial built apon the cleared and re-enchanted grounds of Frozon Manor. The statue was created by Flames the Phoenix and several other Order members to commemerate all the fallen members of the Order who died during the war, and the first to fall for others to follow-the legendary wizard, Headmaster and creator and leader -
Shane Frozon. 
Flames
Flames

– Shane Frozon's Phoenix




TALK

 

– 02:16, February 17, 2013 (UTC)

Every so often one can see the bird fly around the grounds, and sometimes rest on the shoulder of the statue itself.  It smiles with pride as it looks at the world.
Roleplay
Linch

– Advisor to the Minister




TALK

 

– 02:16, February 17, 2013 (UTC)

Linch pays his repects.  He leaves a blue flower at Frozon's feat and smirks up at him.  Not always the best of friends, but he did respect the man more than his own father. Linch smiled and then leaves.
Amias Aimery Wanderer
-"Doing the right thing isn't always easy"
 – 03:12, February 24, 2013 (UTC)

Professor Aimery approached the site of the Shane Frozon memorial. As he approached, he took a long look at the statue. It was hard to believe that this man used to be just another one of his pupils nearly a century ago. He smiled. Shane was more than a colleague to him. He was a dear friend. As he approached the statue, he stumbled on something, almost falling though managing to keep himself up. He looked down at the item he nearly tripped over and picked it up. Silently casting a cleaning spell to clean the dirt off it, he saw that it was a coco mug. It must've been part of was what left of the Frozon Manor. Professor Aimery was surprised it managed to survive the destruction of the manor. Amias filled the mug with some water and placed some flowers in the mug. He looked up at the statue and smiled, then placed the mug on the statue. Looking up one last time, Amias turned and left.
Sabrina and Kinsel