Captain:
Monty Montague
Co-Captain:
You think you've got what it takes to be on the Hufflepuff House Team? Then tryout! Tryout below by putting your character's name and the position you want. Separate them with a dash. ( - )Ex. Aubree Dane - Chaser
Let's see what you've got!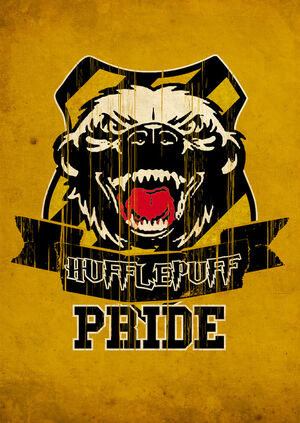 For the current team go
here
.
---
| Topic | Last Edit | Last Author |
| --- | --- | --- |
| Isaac Johnson - Anything | 20:59, October 26, 2018 | Zany Knave |
| Benji Jeon - Chaser | 18:42, October 26, 2018 | Brocky292 |
| Ann-Sofie Deb - Beater (2) | 18:37, October 26, 2018 | Sophia McLaren-Cobb |
| Troy Fitzgerald Lascano - Chaser | 07:17, October 26, 2018 | TimeForTheTea |
| Margie Cook - Seeker | 04:35, October 26, 2018 | SocialCasualty |
| Connor Wang - Beater | 03:06, October 26, 2018 | IconicUsername |
| Kell Larsen - Chaser | 18:19, May 21, 2018 | Asteriea |
| Maisie Saxon – Chaser | 16:04, May 1, 2018 | DYSUTOPIA |
| Miguel Torres - Chaser | 15:41, May 1, 2018 | Carnarvan |
| Ann-Sofie Deb - Beater | 03:03, May 1, 2018 | Sophia McLaren-Cobb |
| Jackson Greer - Anything (2) | 19:16, April 26, 2018 | Ckohrs0221 |
| Anne Greenwood - Keeper | 01:15, April 20, 2018 | Hannahgrace.05 |
| Teagan Blake - Anything | 12:17, April 16, 2018 | JayeMalik' |
| Monty Montague - Seeker | 11:53, April 16, 2018 | HaleTheKing |
| Frances Rockefeller - Seeker | 00:28, April 16, 2018 | JayeMalik' |
| Hestia Mayakovsky-Anything | 12:51, February 2, 2018 | Acatonthemoon |
| Anne Greenwood - Anything | 21:02, February 1, 2018 | Hannahgrace.05 |
| Jackson Greer - Anything | 01:49, February 1, 2018 | Ckohrs0221 |
| Marcel Graves - Chaser (2) | 19:04, January 30, 2018 | UniPacific16 |
| Frances Rockefeller - Anything | 21:45, January 18, 2018 | JayeMalik' |
| Miguel Torres - Anything | 00:38, January 17, 2018 | Carnarvan |
| Kaisa Virtanen - Beater (1) | 00:31, October 31, 2017 | Sugarcrystal |
| Vaughn Pryor - Chaser | 14:38, October 21, 2017 | Karmagician |
| Blair Caldwell - Chaser (2) | 02:38, October 21, 2017 | Aeterna Superi |
| Selena Argyropoulos - Seeker | 18:35, October 20, 2017 | Queen of Anarchy |
| Marcel Graves - Chaser | 21:57, October 17, 2017 | UniPacific16 |
| Ethan Burke - Keeper | 21:45, October 17, 2017 | JayeMalik' |
| Dylan Myo - Keeper | 18:38, July 27, 2017 | Zany Knave |
| Kell Larsen - Beater | 14:54, July 26, 2017 | Asteriea |
| Dido Marie - Beater | 15:59, July 18, 2017 | Sonofapollo |
| Ezekiel Schneider--Seeker5 | 18:05, July 17, 2017 | Notmyresident |
| Mocha Coffee - Seeker | 18:44, July 14, 2017 | Nebuliss |
| Millie Greene - Chaser (3) | 01:47, July 13, 2017 | NotAlwaysPerfect |
| Isabelle Richelieu - Chaser | 01:46, July 13, 2017 | Aeterna Superi |
| Ezekiel Schneider-seeker again | 19:52, April 21, 2017 | Notmyresident |
| Lina Allegri - Chaser (2) | 19:37, April 21, 2017 | DYSUTOPIA |
| Millie Greene - Chaser (2) | 02:15, April 21, 2017 | NotAlwaysPerfect |
| Alyce Liddell - Chaser | 01:04, April 21, 2017 | Queen of Anarchy |
| Wren van Heemstra - Beater | 00:48, April 21, 2017 | Hecate Grimm |
| Jarryd Summers - Keeper (2) | 22:54, April 20, 2017 | UniPacific16 |
| Ezekiel Schneider-Seeker Again | 19:21, January 21, 2017 | Jay Sea |
| Scarlet Chang - Beater | 17:41, January 21, 2017 | Nebuliss |
| Meredith Dixon - Keeper | 23:20, January 20, 2017 | JayeMalik' |
| Millie Greene - Chaser | 23:20, January 20, 2017 | NotAlwaysPerfect |
| Cian Chevalier - Chaser (2) | 23:08, January 20, 2017 | Brocky292 |
| Lina Allegri - Chaser | 14:11, October 19, 2016 | DYSUTOPIA |
| Ezekiel Schneider-Seeker | 11:44, October 19, 2016 | Jay Sea |
| Wren van Heemstra - Anything | 04:25, October 19, 2016 | Hecate Grimm |
| Jarryd Summers - Keeper | 01:27, October 19, 2016 | UniPacific16 |
| Cian Chevalier - Chaser (Re-Tryout) | 22:03, October 18, 2016 | Brocky292 |
| Pamela Kyle - Chaser | 17:33, October 18, 2016 | JayeMalik' |
| Chloe Sakellarios - Keeper | 05:45, July 20, 2016 | JustChase |
| Cian Chevalier - Chaser | 22:16, July 19, 2016 | Brocky292 |
| Gwen Wolf- Chaser | 22:09, July 19, 2016 | Acatonthemoon |
| Feli Fiedler - Chaser | 19:08, July 19, 2016 | DYSUTOPIA |
| Bennett Wells-Marshall - Anything | 18:49, July 19, 2016 | Surferdude1219 |
| Ezekiel Schneider - Any | 18:42, July 19, 2016 | Jay Sea |
| Finn Park - Chaser (Re-Tryout) | 23:21, January 24, 2016 | EvilhariboMadness |
| Valentin Fernandez - Beater | 06:06, January 24, 2016 | Aeriesol |
| Isabel Castillo-Chambers - Chaser or Keeper | 05:49, January 24, 2016 | Elentári of the Stars |
| Oliver Coastillon - Keeper | 17:35, January 23, 2016 | JustChase |
| Sybil Whittley - Seeker (Retryout) | 10:09, January 20, 2016 | JayeMalik' |
| Gwenevere Wolf- Chaser or Seeker | 21:34, January 19, 2016 | Acatonthemoon |
| Sybil Whittley - Seeker | 01:44, October 25, 2015 | Frostleaf1615 |
| Ebberla "Emma" Dachshund - Anything | 01:43, October 25, 2015 | Frostleaf1615 |
| Celyn Edillon - Beater | 01:39, October 25, 2015 | Frostleaf1615 |
| Ani Martins - Beater (Re-Tryout) | 01:38, October 25, 2015 | Frostleaf1615 |
| Kylie Washburn - Keeper (Retryout) | 21:39, October 21, 2015 | Frostleaf1615 |
| Newt Pendery - Seeker | 21:35, October 21, 2015 | Frostleaf1615 |
| Finn Park - Chaser | 21:32, October 21, 2015 | Frostleaf1615 |
| David Boyle - keeper | 11:58, August 11, 2015 | Expecto Patronum13 |
| Nolan Boyle - Seeker or Chaser | 11:52, August 11, 2015 | Expecto Patronum13 |
| Fiona Whitacre - Anything | 15:29, August 2, 2015 | Bond em7 |
| Lisbeth Ostberg - Beater | 15:28, August 2, 2015 | Bond em7 |
| Augustus Mitchell-Anderson - Anything | 15:28, August 2, 2015 | Bond em7 |
| GC2 - Seeker or Chaser | 15:27, August 2, 2015 | Bond em7 |
| Kylie Washburn - Keeper | 15:26, August 2, 2015 | Bond em7 |
| Oscar Mortley - Beater | 15:26, August 2, 2015 | Bond em7 |
| Kimi November - Anything | 15:25, August 2, 2015 | Bond em7 |
| Ani Martins - Beater | 22:35, May 4, 2015 | NotAlwaysPerfect |
| Haru Stendahl-Anything but Chaser | 17:21, May 3, 2015 | Emmatigerlily |
| Mark Bagman-Chaser (Re-tryout) | 17:19, May 3, 2015 | Emmatigerlily |
| Elle Dane - Seeker (Re-tryout) | 17:10, May 3, 2015 | Emmatigerlily |
| Elle Dane - Seeker (Re-Tryout) | 20:17, February 4, 2015 | Emmatigerlily |
| Tamara Bouchard - Keeper (Retryout) | 20:15, February 4, 2015 | Emmatigerlily |
| Oscar Mortley - Beater (Re-tryout) | 20:11, February 4, 2015 | Emmatigerlily |
| Aiden Anderson - Chaser (Re-Tryout) | 20:08, February 4, 2015 | Emmatigerlily |
| Patricia Hayden- Seeker (Re-Tryout) | 20:55, November 6, 2014 | Echostar |
| Elle Dane - Seeker or Chaser | 13:20, November 4, 2014 | Bond em7 |
| Oscar Mortley - Chaser or Beater | 22:58, November 3, 2014 | Alyssa5582 |
| Aiden Anderson - Chaser | 22:58, November 3, 2014 | Alyssa5582 |
| Cloud Rosendale - Chaser | 22:57, November 3, 2014 | Alyssa5582 |
| Tamara Bouchard - Keeper | 22:56, November 3, 2014 | Alyssa5582 |
| Kimi November - Seeker or Chaser (Re-Tryout) | 22:56, November 3, 2014 | Alyssa5582 |
| Orion Casper - Beater/Chaser | 22:55, November 3, 2014 | Alyssa5582 |
| Haru Stendahl - Seeker | 22:55, November 3, 2014 | Alyssa5582 |
| Annabeth Blake- chaser (re- tryout) | 12:14, November 2, 2014 | Pandy589 |
| April Payne - Seeker | 19:06, October 31, 2014 | JayeTheMofo |
| Haru Stendahl-Seeker | 12:55, August 11, 2014 | Peislandgal |
| Annabeth Blake- chaser | 20:08, August 10, 2014 | Peislandgal |
| Lindy Powell - Chaser | 13:35, August 9, 2014 | Peislandgal |
| Patricia Hayden- Anything but Beater | 13:35, August 9, 2014 | Peislandgal |
| Kimi November - Seeker or Chaser | 13:34, August 9, 2014 | Peislandgal |
| Cloud Rosendale - Keeper | 13:33, August 9, 2014 | Peislandgal |
| Sadie Grey - Chaser | 22:08, July 30, 2014 | Peislandgal |
| Valentine Wildwood-Seeker | 08:51, January 24, 2014 | TimeLord15 |
| Annabeth blake-chaser | 19:42, October 23, 2013 | Pandy589 |
| Jasmine Prior-Keeper | 22:34, October 21, 2013 | Alyssa5582 |
| Juliana Richards-Chaser | 22:26, October 18, 2013 | Alyssa5582 |
| Jamie Black - Seeker | 01:34, October 15, 2013 | Alyssa5582 |
| Alastar Black - Chaser Sub | 17:30, August 20, 2013 | Vulpec |
| Lizzy Speril - Seeker | 02:43, August 16, 2013 | Popyear199 |
| Bennett Heyworth - Chaser | 14:36, August 1, 2013 | Sonofapollo |
| John McNorton - Urgent Sub | 20:26, July 15, 2013 | Glory to Our Lord |
| Claire Beck - General Sub | 17:20, July 15, 2013 | Sonofapollo |
| Matthew Kirkland-Chaser | 16:37, July 15, 2013 | Sonofapollo |
| Sean Harris - Chaser (Re-Tryout) | 16:37, July 15, 2013 | Sonofapollo |
| Josie Roberts - Seeker | 16:36, July 15, 2013 | Sonofapollo |
| Dalton Lenton - (Re-Tryout) Keeper | 16:36, July 15, 2013 | Sonofapollo |
| Andy Lenton (Re-tryout) - Beater | 14:56, July 8, 2013 | Sonofapollo |
---