Fat Lady's Portrait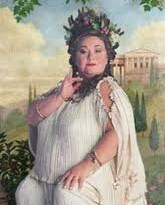 The Fat Lady's Portrait is located on the seventh floor. The portrait is of a plump woman with grapes as her headdress and who wears a pink silk dress. Her life and death are unknown. It is possible she was sorted into Gryffindor and since she died, she has guarded the common room with passwords that, when answered correctly, cause her to swing back, opening the door, to let the student or professor enter.
Musical tribute
The portraits to either side have been known to perform a cappella renditions.
Archive
Roleplay
Roleplay
Ad blocker interference detected!
Wikia is a free-to-use site that makes money from advertising. We have a modified experience for viewers using ad blockers

Wikia is not accessible if you've made further modifications. Remove the custom ad blocker rule(s) and the page will load as expected.