Eva Saetre' Office
Department of Mysteries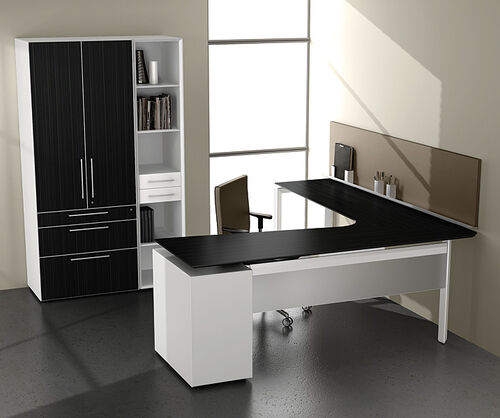 This is the office of Eva Saetre, Unspeakable and Head of the Department of Mysteries. She keeps her office clean and tidy, not so much out of personal need, but for the sake of being organized.
Archives
Roleplay
Yue
| | |
| --- | --- |
| | |
| | |
| --- | --- |
| | |
| | |
| --- | --- |
| | |
| | |
| --- | --- |
| | |
Yue O'Byrne, Ph.D.

-

Unspeakable

• Half-Banshee •

@Void_screams_back

-"The life of the dead is placed in the memory of the living." ~Marcus Tullius Cicero
Message Me – 17:30, October 4, 2018 (UTC)

She smiles awkwardly. "Well, I've always been intrigued by death, my entire life, and--I actually went to a no-maj university to study death--er, the psychology of death, how and why people react and things." She cuts herself off, reminding herself to stay on track. "But the British Ministry's work is--nigh on legendary. Unfortunately I don't know a lot of the specifics because you guys are good at keeping it, um--" She feels a pun coming on, but she isn't going to laugh about it. She's not. "A mystery. But from what I do know, and as someone as serious about figuring death out as I am, the Department of Mysteries is just the way to go."
| | |
| --- | --- |
| | |
Yue O'Byrne, Ph.D.

-

Unspeakable

• Half-Banshee •

@Void_screams_back

-"The life of the dead is placed in the memory of the living." ~Marcus Tullius Cicero
Message Me – 07:16, October 5, 2018 (UTC)

Cautiously, she answers, "Very. Well, with anatomy at least. I don't have much practical healing experience, but while I was in college I worked as an intern and then as an assistant in my local auror division's coroner's office." She pauses, thinking she's done, before adding quickly, "I try to stay out of hospitals though. I'm half-banshee, so..." She scrunches up her shoulders. "The amount of death that could happen while I'm in a hospital is a bit too high for my safety."
Clara
| | |
| --- | --- |
| | She stood in front of the door, pausing only briefly before knocking. She wasn't surprised when she got the notification of an interview, she'd even be expecting it. Though she had some nerves to contend with the previous night, they had been overpowered by Clara's own determination and drive. Plus, wasn't fear a good thing? An emotion that could push you forward, keep you cautious. Clara wasn't going to belittle herself for feeling it. Dressed in designer clothing, she took a small breath. She was going to get this position one way or another. She had to. |
| | |
| --- | --- |
| | Here we go. She opened the door, her eyes gazing through the room before landing on Eva and smiled, closing the door behind her. "You must be Ms. Saetre," she said as she walked forward, holding out her hand, "I'm Clara Báthory." |
| | |
| --- | --- |
| | She slipped into the chair, crossing her legs, and her eyes traveled around the room once before landing back onto Eva. "Likewise," she said returning the smile. |
| | |
| --- | --- |
| | "I got drawn because I like the mystery of it all. The very future of our society can be told in this department and I believe it should be protected. I use to work at Wizco but I've always wanted to work somewhere in the ministry," she said with a shrug. |
| | |
| --- | --- |
| | She raised an eyebrow, rather amused by the question though she didn't show it. "That is what I put down, yes." |
| | |
| --- | --- |
| | "I do," she said, rather confidently, however, she believed this to be true. Everything in Clara's life. Her schedule, her house, was organised to a point where it could be considered almost OCD. Maybe the hall of prophesies was a bit more...intense than that but... "I believe I have the right temperament and the right set of skills for this sort of work." |
| | |
| --- | --- |
| | "I can remember names and faces better than your average person but of course, I am human," she said, twisting a ring, "it might be useful to install a face recognition system which allows us to store and catalogue people more easily." She knew that was risky. The wizarding community wasn't too supportive of technology. "Of course, there are other matters." |
| | |
| --- | --- |
| | "Maybe so," she agreed, "but there are walls able to be built and we'd have an expert at hand. Furthermore, it might benefit to have the system a back up that is offline as well, that isn't connected to a network." |
| | |
| --- | --- |
| | Her only reaction was two swift blinks before her smile grew. Easier than expected. Her fingers stopped fiddling with the ring then and she relaxed slightly. "Thank you," she said after a moment, "I doubt I'll let you down. Start on Monday or do you expect me sooner?" |
Bri
Bri Montgomery

- ulzzang 🌙 singer 🌙 clockwork princess 🌙

wildkard

- "Walk into the club like wait nevermind can we go home."
Message Me  - 12:45, May 18, 2018 (UTC)

When she got the owl, she was halfway through her W marathon, hella sleep-deprived as usual so Bri was skeptical. But when it was confirmed that it was the real thing, Bri accepted it with eerie calmness that even she herself couldn't believe her reaction. The only thing in her mind was what they could've found in her application that made them consider her. The entire time she spent preparing for the inevitable interview, there were little to no signs of her usual anxiety, which was questionable since interviews were f***king terrifying. But the moment she found herself in front of the office door after probably knocking a precise 3 times with 0.5 second intervals, she was wishing that the ground should just swallow her up, continuously asking herself why she thought this was a good idea at all.
| | |
| --- | --- |
| | |
Bri Montgomery

- ulzzang 🌙 singer 🌙 clockwork princess 🌙

wildkard

- "I am a very tall midget."
Message Me  - 00:50, May 28, 2018 (UTC)

She complies to the request, entering the room and closing the door behind her with a soft click. For a few moments, she stands there awkwardly before taking a deep, calming breath and walking towards the front of the desk. "Um, good morning, Ms. Saetre." Bri greets with a formal bow.
| | |
| --- | --- |
| | |
| | |
| --- | --- |
| | |
| | |
| --- | --- |
| | |
Bri Montgomery

- ulzzang 🌙 singer 🌙 clockwork princess 🌙

wildkard

- "May mga bagay na di mo na mababago lalo na ang opinyon ng taong utak ay sarado."
Message Me  - 01:42, June 19, 2018 (UTC)

"Working here has been on my mind since I was second year, wanted to work here with my best friend. Prior to Hogwarts and discovering magic, my mind has always been on research and discoveries and I've been looking to pursue a science-related course when I reach college. But since discovering what I really am and what hidden abilities I had, those plans went to wanting to discover all the secrets magic could be holding. I just have a lot of questions about magic in general and working here may be the best way of getting to answer those questions myself legally."
Rain
Rawiya R.P. Sassari -

unspeakably

so

🍨

princess of shade

- "Survive now, suffer later."
Message Me  - 12:05, May 18, 2018 (UTC)

Rain hadn't been expecting a response. Her portfolio's pretty meh for such a position. DoM is renowned for all the secrecy and tight security, even with the decline of the Ministry. Things happen in those rooms. Important, deadly, and maybe even illegal things. She won't put it past the government to do that type of backhanded riffraff. It's the government for Morgana's sake. They're sneaky shitheads. Now that she's standing in front of the office door though, Rain wonders if she should call it quits. It's been her and Bri's dream since what? Second year? With it in sights, the gorgeous designer suit Jackson had sent her off in feels suffocating. She has to admit that she does look hella in it. Oh bejeejus. She rubs her hands together mindlessly, as if she still feels the suds from cleaning up in THP. She hasn't told the owner yet about this. There really isn't a guarantee and her hopes aren't very high, but they're there. After a few more anxiety ridden minutes of staring at the wood, she raises a fist and knocks on it twice.
| | |
| --- | --- |
| | |
| | |
| --- | --- |
| | |
| | |
| --- | --- |
| | |
Rawiya R.P. Sassari -

unspeakably

so

🍋

princess of shade

- "Survive now, suffer later."
Message Me  - 23:36, May 21, 2018 (UTC)

The past reins in her footsteps, and so she shuts the door with barely a peep and with her toes stuck to the ground. Didn't matter where or when, places like these have that hushing quality. She's never liked having to keep the sound down to 10, but she doesn't mind the atmosphere doing so brings. Upon stepping into the room, she goes through a short, visual tour. Yep. Definitely one of those places. She catches herself bowing to the woman, and corrects the habit by limiting it to her head.
| | |
| --- | --- |
| | |
| | |
| --- | --- |
| | |
| | |
| --- | --- |
| | |
Rawiya R.P. Sassari -

unspeakably

so

🍨

princess of shade

- "You can't save anyone, you can only love them."
Message Me  - 08:42, June 1, 2018 (UTC)

"Because everything else is pure, boring desk work or dying to terrorists," Rain replied. "If I'm going to sit behind a desk all day it better have something interesting otherwise I'll go stir crazy." Not professional, but eh, it felt better to be herself rather than be desperate. "Been me and my best friend's dream since second year to work here. We've always liked to dream up whatever strangeness would be behind the doors. Yeah, it's not like being a Magizoologist where they make so many discoveries within a year, but the research done here is still relevant."