Deathday Party Hall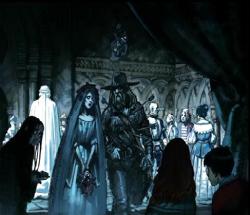 The
Deathday Party Hall
(also known as the
Deathday Party Room
) is one of the roomier dungeons in Hogwarts Castle. The room is accessible via the
Dungeon Staircase
. On 31 October 1992, this dungeon was where Sir Nicholas de Mimsy-Porpington's five-hundredth Deathday Party was held. Decorations for the event included several black velvet draperies, and a chandelier covered with jet-black candles with bright blue flames.
Archive
Roleplay
Ad blocker interference detected!
Wikia is a free-to-use site that makes money from advertising. We have a modified experience for viewers using ad blockers

Wikia is not accessible if you've made further modifications. Remove the custom ad blocker rule(s) and the page will load as expected.