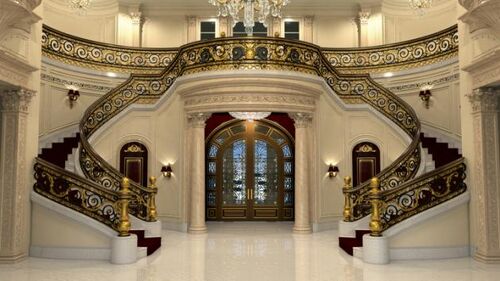 The lobby is furnished in antic French decor and beautifully crafted by one of her father's most esteemed friend and designer.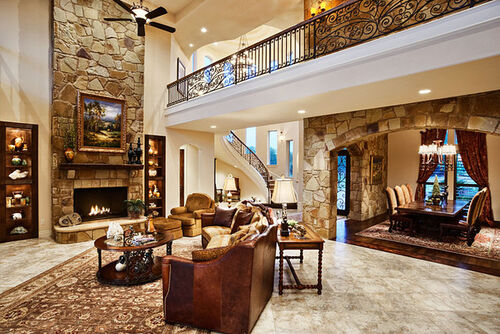 This is the main area, used as a living room. There is another seating area located on the third story.
The lounge is one of the most modern parts of this home. It was designed by her mother, who insisted on a modern splash. To the right there is a tiny pool in which is glassed in.
Ophelia Bellavance, heir to the Bellavance fortune resides in this small estate at the edge of the forest, not too far from the hustle and bustle of London. She has quick access to the wizarding community and lives here while in London on French Ministry business.
Sublocations
Archives
Roleplay
Ophelia and Leon
Leon Schmidt

Ω Durmstrang Alumnus Ω Half-Spirit Nymph Ω Pediatrician

-"Ich hasse dich nicht. Ich bin nur nicht über deine Existenz erfreut."

A crack notified Ophelia that her guest had arrived. Sporting his signature scarf as usual, Leon appeared a few feet from Ophelia, instantly taking note of the estate. He started his way towards Ophelia, giving her a small wave and smile.

Shoot me an owl!

 

Ω 01:47, December 23, 2015 (UTC)
Leon Schmidt

Ω Durmstrang Alumnus Ω Half-Spirit Nymph Ω Pediatrician

-"Ich hasse dich nicht. Ich bin nur nicht über deine Existenz erfreut."

At the realization that someone besides his family had kissed him, his ears immediately went red, though he was able to muster up the strength to speak. "Hallo, Ophelia. Sorry for being late. Regine was being difficult." He told her.

Shoot me an owl!

 

Ω 01:58, December 23, 2015 (UTC)
Leon Schmidt

Ω Durmstrang Alumnus Ω Half-Spirit Nymph Ω Pediatrician

-"Ich hasse dich nicht. Ich bin nur nicht über deine Existenz erfreut."

He followed her inside, resisting the urge to look around. So far he hadn't sensed another presence here, only Ophelia's emotions. "O- Oh, of course." He replied with a smile.

Shoot me an owl!

 

Ω 02:15, December 23, 2015 (UTC)
Leon Schmidt

Ω Durmstrang Alumnus Ω Half-Spirit Nymph Ω Pediatrician

-"Ich hasse dich nicht. Ich bin nur nicht über deine Existenz erfreut."

He moved to take a seat. He removed his scarf, folded it, and set it on his lap. It felt kinda strange to be in a house that looks very... French, but it does look very beautiful.

Shoot me an owl!

 

Ω 02:24, December 23, 2015 (UTC)
Leon Schmidt

Ω Durmstrang Alumnus Ω Half-Spirit Nymph Ω Pediatrician

-"Ich hasse dich nicht. Ich bin nur nicht über deine Existenz erfreut."

"Nothing much. I've taken the day off since Vatti and Okāsan weren't at home." He told her as he accepted the glass of wine from her.

Shoot me an owl!

 

Ω 02:52, December 23, 2015 (UTC)
Leon Schmidt

Ω Durmstrang Alumnus Ω Half-Spirit Nymph Ω Pediatrician

-"Ich hasse dich nicht. Ich bin nur nicht über deine Existenz erfreut."

"It was fun having a whole day with my siblings since I'm not able to see them very often, with Katja and her modelling career and Tobias and Regine still in school." He explained, taking a sip from his glass. "How about you? How have you been?"

Shoot me an owl!

 

Ω 03:48, December 23, 2015 (UTC)
Leon Schmidt

Ω Durmstrang Alumnus Ω Half-Spirit Nymph Ω Pediatrician

-"Ich hasse dich nicht. Ich bin nur nicht über deine Existenz erfreut."

"You don't suppose that there's something that happened to them?" He asked, tilting his head slightly to the side to denote confusion. He moved a bit to face Ophelia.

Shoot me an owl!

 

Ω 04:25, December 23, 2015 (UTC)
Leon Schmidt

Ω Durmstrang Alumnus Ω Half-Spirit Nymph Ω Pediatrician

-"Ich hasse dich nicht. Ich bin nur nicht über deine Existenz erfreut."

He squirmed a bit under her gaze, feeling uncomfortable with the fact that someone was staring at him. He looked down at the scarf on his lap and started fiddling with it, hoping to distract himself.

Shoot me an owl!

 

Ω 04:31, December 23, 2015 (UTC)
Leon Schmidt

Ω Durmstrang Alumnus Ω Half-Spirit Nymph Ω Pediatrician

-"Ich hasse dich nicht. Ich bin nur nicht über deine Existenz erfreut."

He nodded and took one from the plate, settling down his wine glass on the table. He quietly ate the food while fiddling with the scarf on his lap. He eventually stopped fiddling with his scarf and started to trace Hiragana on it out of habit, forming random words and sentences.

Shoot me an owl!

 

Ω 04:19, December 24, 2015 (UTC)
Leon Schmidt

Ω Durmstrang Alumnus Ω Half-Spirit Nymph Ω Pediatrician

-"Ich hasse dich nicht. Ich bin nur nicht über deine Existenz erfreut."

He looked up at Ophelia and then back at his scarf. "Oh, it's a gift from my Okāsan, mom in English." He replied, going back to tracing Hiragana, eventually spelling out the Hiragana for his mom's name.

Shoot me an owl!

 

Ω 06:38, December 24, 2015 (UTC)
Template:Ophelia