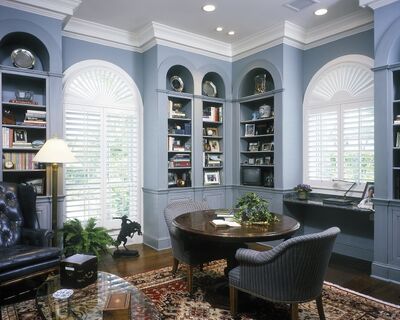 This is the Ancient Runes Professor's office. It's a circular, dainty room on the sixth floor with large windows, black tile floors, and white walls. There is a fairly large room in the back with a bed and many bookshelves for night use. It can be accessed by going up a stone staircase hidden by a tapestry in the Ancient Runes classroom. You can have your detention here.
Previous Owner
This office was recently occupied by Professor Yveline Dubois. Being a French woman from Beauxbatons Academy, she decorated the office with blue and grey furniture, giving a modern and sophisticated look to the room. In front of the door to her bedroom, she put a large chair with black leather and a heavy oak desk. She had two light blue lounge chairs and a small white end table in front of her desk, and many grey bookshelves.
Current Owner
Roleplay
Archives
Ad blocker interference detected!
Wikia is a free-to-use site that makes money from advertising. We have a modified experience for viewers using ad blockers

Wikia is not accessible if you've made further modifications. Remove the custom ad blocker rule(s) and the page will load as expected.